Jennifer Lawrence 'Best Hero' Nomination Petition Is Catching Fire After 2014 MTV Movie Awards Snub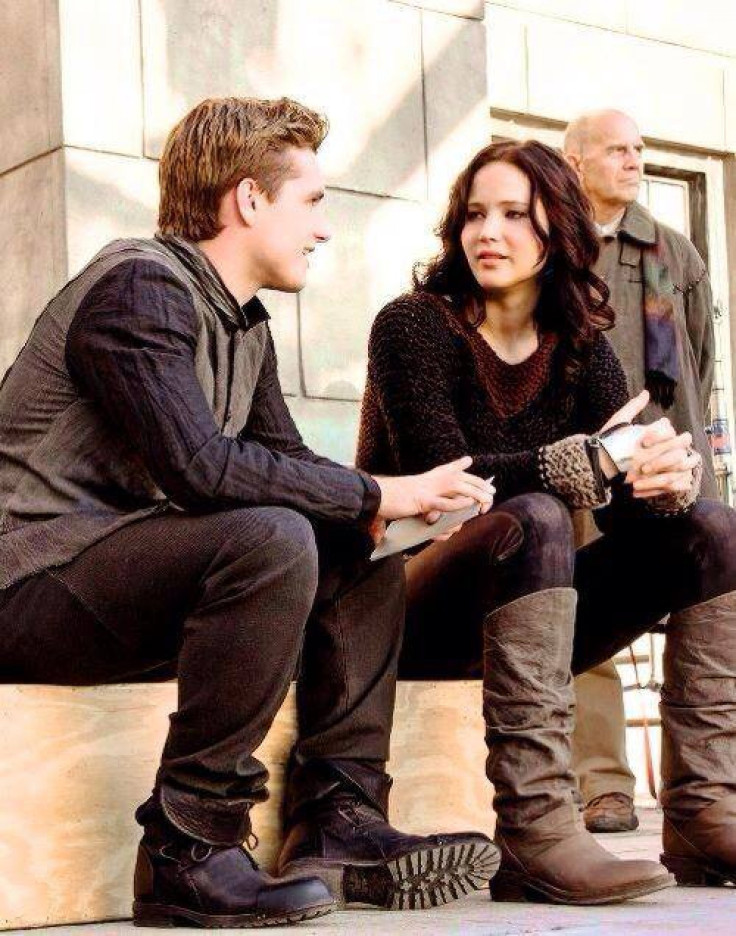 Jennifer Lawrence fans are burning mad following her 2014 MTV Movie Awards nomination snub last week. Despite the network approving nominations for the 23-year-old Oscar winner in four categories, including best female performance for her work in the latest dystopian "Hunger Games" movie, fans of the actress are claiming the Kentucky native also deserves to be a contender for the "Best Hero"-- a category currently dominated by all male film stars.
"The MTV Movie Awards are widely watched by a young adult audience," reads Sophie Azran, the creator of the fan driven, Care2 petition. "It's appalling to me that the event's producers are ignoring this female hero, especially since this film beat out all the others at the box office."
The petition, which as of Tuesday morning had already received over 13,700 signatures of its goal 15,000 participants prior to their March 14 deadline, is reportedly campaigning to earn Lawrence recognition for her role portraying war hero Katniss Everdeen in the Blockbuster feature, "The Hunger Games: Catching Fire."
"Young women already have too few female heroes represented in film and television. We're constantly shown by the entertainment industry that men are brave, powerful, or successful, while women are often given supporting roles and weak characters," reads the petition, in which Azran adds the belief that MTV should strongly consider adding Lawrence to the category. "Teen girls and young women everywhere need to see that courageous, principled women can be rewarded just like men," reads the petition.
Despite MTV's lack of comment regarding the petition filmgoers participating in the petition appear adamant in their efforts to get what they feel as Lawrence' nomination snub rectified.
"It is a shame that MTV promotes this movie so heavily yet when time comes to acknowledge [Jennifer Lawrence], they completely ignore her for one of the guys," wrote an unidentified participant Tuesday. "Without any super powers she manages to start a revolution for basic human rights. If that is not inspiring, especially for the millions of women and men living under poor conditions in our world, then what is? Katniss Everdeen fights this as a true hero. That deserves a nomination," posted Charlotte Sorensen of Denmark Tuesday. "In a time you tell women you are the same as men, how dare you not acknowledge the one ladies relate to," said Samantha Spencer of Okla.
Those currently nominated in MTV's "Best Hero" category include: Channing Tatum as John Cale in "White House Down", Chris Hemsworth as Thor in "Thor: The Dark World", Henry Cavill as Clark Kent in "Man of Steel," Martin Freeman as Bilbo Baggins in "The Hobbit: The Desolation of Smog" and Robert Downey Jr. as Iron Man in "Iron Man 3," were nominated in the MTV's "Best Hero" category.
Lawrence currently holds four 2014 MTV Movie Awards nominations, including "Best Female Perfomance" and "Best Fight" for "The Hunger Games: Catching Fire." Lawrence is also nominated for "Best Kiss" and "Best Musical Moment" for her work in the Oscar-nominated film, "American Hustle."
The 2014 MTV Movie Awards airs Sunday, April 13 at 9 p.m. ET.
<iframe seamless="seamless" style="border: none; overflow: hidden;" height="450" width="100%" scrolling="no" src="http://assets-polarb-com.a.ssl.fastly.net/api/v4/publishers/IBTimes/embedded_polls/iframe?poll_id=164137"></iframe>
© Copyright IBTimes 2023. All rights reserved.