Jennifer Lopez Hangs Out With Twins Max, Emme On 'Second Act' Set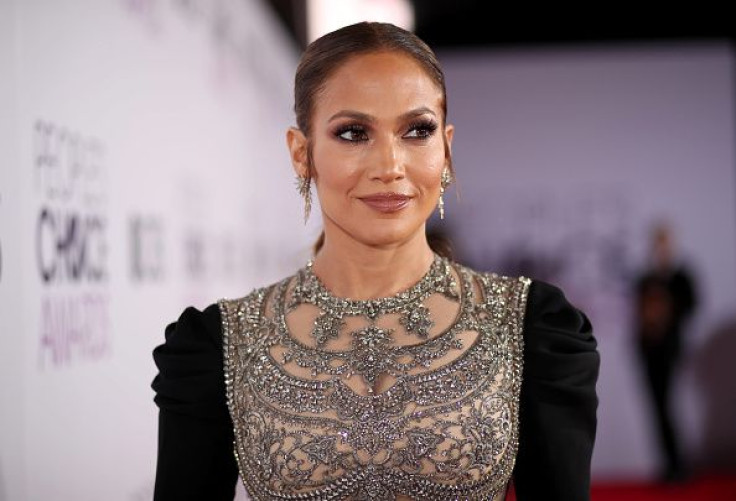 It's bring your kids to work day for Jennifer Lopez! The actress brought her twins, Max and Emme, to the set of her upcoming movie, "Second Act," on Monday.
In the photos published online by the Daily Mail, Lopez is standing beside her 9-year-old daughter, Emme. The mom of two is wearing plaid trousers, black turtleneck and red trench coat. Emme, on the other hand, is wearing a dress, black tights and grey sweater.
Lopez's co-star, Vanessa Hudgens, also hung out with the little girl. The trio was seen smiling and sitting on a bench at one point. Lopez also hugged Emme while they were talking to Hudgens.
Another picture showed Lopez going down the stairs with her son, Max. He is wearing a blue sweater, black jeans and black shoes. Max's inner shirt could not be seen from the angle that the photo was taken.
When it was time to shoot their scenes, Max and Emme sat behind the cameras and waited for their mom to finish. Lopez previously revealed that she brings her kids to work regularly. In fact, when she traveled to Las Vegas, she also brought her twins with her.
Earlier this year, Lopez also brought her twins to the "Ellen Show." While there, Max hilariously hid inside the table. Emme just sat on her mother's lap while Lopez was interviewed by host Ellen DeGeneres.
Max and Emme also cheered their mom when she participated in a game called "Last Dance." The two youngsters couldn't help but laugh at their mom when she danced nonstop.
Meanwhile, "Second Act" will follow the life of a big-box store employee named Maya (Lopez). She wants to prove that success can also be attained without a college degree. The film also star Milo Ventimiglia as Maya's boyfriend, Trey, as well as Lopez's real life best friend, Leah Remini, as Joan.
"Second Act" is directed by Peter Sagal. He helmed "50 First Dates," which starred Drew Barrymore and Adam Sandler.
© Copyright IBTimes 2023. All rights reserved.