Jeremy Christian, Portland Stabbing Suspect, Screams About 'Patriotism' And 'Free Speech' At Hearing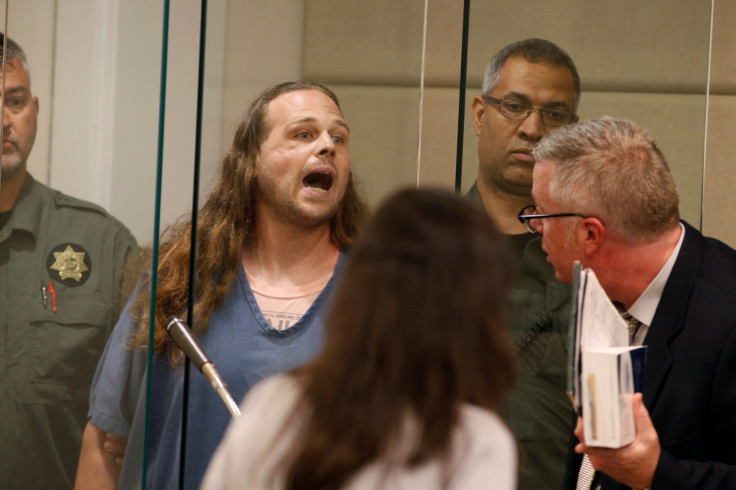 Jeremy Christian, the 35-year-old suspect in Portland stabbing case, made repeated verbal outbursts during his court appearance Tuesday. Christian is facing charges of fatally stabbing two men and injuring another on a Portland light rail train Tuesday after they intervened to stop him from yelling hate comments at two young women, one of whom was wearing a hijab.
"Free speech or die, Portland. You got no safe place. This is America. Get out if you don't like free speech," Christian said while he was being arraigned on murder charges before Judge Paul G. Crowley at the Multnomah Justice Center in Portland Paul G. Crowley at the Multnomah Justice Center in Portland.
"You call it terrorism, I call it patriotism. You hear me? Die," Christian screamed while being led out of the court.
Read: Muslim Hate Crimes: Hawaii Mosque Receives Threatening Messages Amid New Trump Travel Ban
Christian has been charged with one count of attempted aggravated murder, two counts of aggravated murder, two counts of second-degree intimidation and one count of first-degree assault, and three counts of unlawful use of a weapon, CBS News reported.
Taliesin Myrddin Nankai Meche, 23 and Rick Best, 53, an army veteran and father of four, were stabbed by Christian on a MAX train in Portland around 4:30 p.m. EDT Friday. According to court documents, Best died on the spot and Nankai Meche was declared dead at the hospital. Christian also wounded Micah David-Cole Fletcher, 21, a third person who tried to intervene. Fletcher was released from the hospital Monday night and was present during Christian's arraignment.
During his appearance at the court, Christian also yelled "death to the enemies of America" and "death to Antifa." Antifa is a name used by groups who call themselves "anti-fascist."
Witnesses to the incident said Christian-targeted "hate speech" at two African-American girls, one of whom was wearing a hijab and shouted comments like "I don't care if you are ISIS" and "Go home, we need Americans here."
According to court documents, the video taken on train showed Christian concealing a folding-style knife and challenging Nankai Meche and Fletcher to "do something" before stabbing Fletcher in the neck.
Christian fled after the incident, however, he was captured and arrested by the police soon after. According to an affidavit of probable cause, while in the police car, Christian allegedly said that he was a "patriot" and admitted to the crime and saying, "that's what liberalism gets you."
According to his Facebook page and criminal records, Christian is a known right-wing extremist and white supremacist. On April 29, Christian participated in a right-wing "March for Free Speech" on 82nd Avenue in Montavilla, Portland, carrying a baseball bat in an attempt to assault left-wing protesters. The bat was immediately confiscated by Portland police officers. He went on ranting how he was a nihilist and started to yell racial slurs and also gave the Nazi salute throughout the day.
Christian's criminal records also showed a number of felonies dating back to 2002, including first-degree robbery and second-degree kidnapping. From 2002, he also had a conviction for carrying or using a dangerous weapon.
Police have been investigating his alleged extremist ideology, while his Facebook page is filled with anti-Semitic comments and other evidence of his views.
Portland Mayor Ted Wheeler condemned the attack Monday and said it was an act of bigotry and terrorism.
In a statement posted on Twitter, Trump said, "The violent attacks in Portland on Friday are unacceptable."
© Copyright IBTimes 2023. All rights reserved.