Jeremy Lin's Words Of Wisdom For Stuyvesant High School Grads Goes Viral [VIDEO]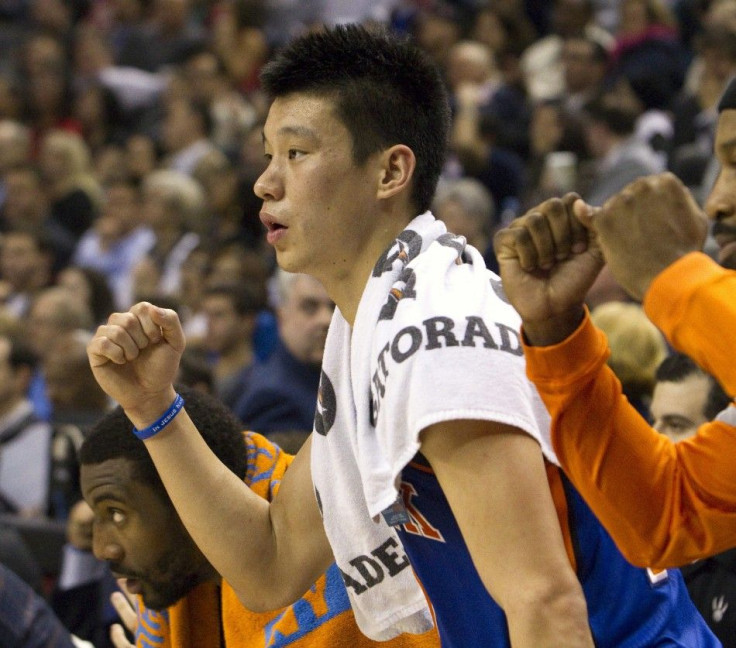 Jeremy Lin couldn't speak to Stuyvesant High School's senior class, but the injured New York Knicks point guard did the second best thing: make a YouTube video with words of wisdom for the graduates.
The video has been a YouTube hit, with more than 170,000 views. Watch the video by scrolling further down in this article.
Lin's video was in response to Stuyvesant HS senior class president Eric Han's video in which Han urges Lin to speak at the elite New York City high school's graduation.
Lin became an overnight sensation when he was thrust into the Knicks starting lineup and led New York to eight straight victories. His Knicks jersey is a top seller, eclipsing stars such as LeBron James and Derrick Rose.
Lin, a California native and standout at Harvard, offered advice to the Stuyvesant grads. The high school is considered tops in New York City.
So, as you go on from high school, I just want to encourage you guys to make sure you really have a lot of fun, you enjoy what you're doing and you pursue your passions, Lin says into the camera. I think the most important thing for me, looking back, isn't that I got to the NBA. It's the I enjoyed the path to the NBA, that I had fun playing basketball and now something I really love and still love doing.
Lin was passed up by major college programs, but said he didn't let those disappointments discourage him from achieving his dream.
Don't let anyone tell you what you can't do, he advises the seniors in the video. A lot of times people are going to tell you that you can't do this for whatever reason or that you don't belong here. You really can accomplish a lot more than what other people think you can and sometimes even more than what you think you can yourself.
So make sure that you really just pursue everything with all your heart, Lin continues. I know it sounds pretty cliché ... when I'm done with my life, I don't want to look back and have regrets and wish that I tried harder here or I was more disciplined here or had extended myself and done something a little out of my comfort zone.
A devout Christian, Lin also gave a shout-out to Stuyvesant's Christian Club and urged the club to continue to be a light on campus and to spread God's love to everybody.
Lin urged the graduates to live in the moment during their college years, saying his time at Harvard were some of the best years of his life and it flew by.
The Knicks point guard also showed off his playful and energetic side by rapping in the video and upping his intensity.
Lin has been injured and the most optimistic scenario is that he can come back by Game 4 of the Knicks' playoff series with the Miami Heat.
The Knicks are going to need Lin to contribute after New York was thumped by James and the Heat, 100-67, in Game 1 of the series Saturday.
Knicks-Heat continue the series tonight in Miami. The game will be aired on TNT and has a start time of 7:30 p.m. EST.
© Copyright IBTimes 2023. All rights reserved.