Jerry Sandusky Speaks after Pretrial Hearing [VIDEO]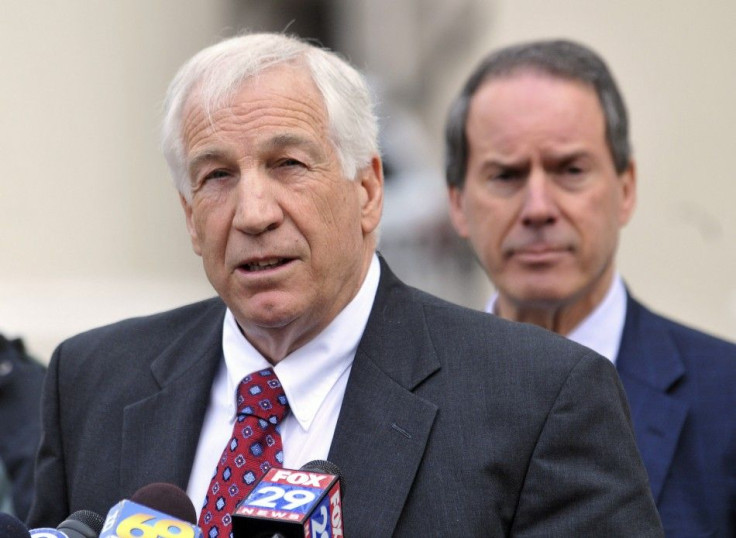 Jerry Sandusky spoke to the media on Friday after attending a pretrial hearing in his child sexual-abuse case.
The former Pennsylvania State University assistant coach addressed the complaints of his neighbors and certain restrictions that the government has placed on him.
Some who live by Sandusky have requested that the accused not be allowed out of his house except for medical reasons. Neighbors say Sandusky has been using his porch to watch children at a nearby elementary school.
Sandusky dismissed the allegations, saying he goes on his porch for a different reason: All of a sudden, because of allegations and perceptions that have tried to be created of me, now I can't take our dog on my deck, and throw out biscuits to him.
After initially posting bail of $250,000, Sandusky has been under house arrest.
Sandusky's attorney on Friday requested that his client be allowed to leave his home to see his grandchildren and meet with his legal counsel. Centre County Judge John Cleland has yet to issue a ruling on this matter.
During the hearing, Sandusky's lawyer argued against the prosecution's stand that a jury should not consist of anyone from Centre County, where he resides. The attorney said a jury of outsiders would not limit the publicity of the case.
A tentative trial date of May 14 has been set.
Below is the video of Sandusky's entire statement.
© Copyright IBTimes 2023. All rights reserved.