Jessa Duggar Tweets Baby Photo Of Nephew As Her Pregnancy Due Date Nears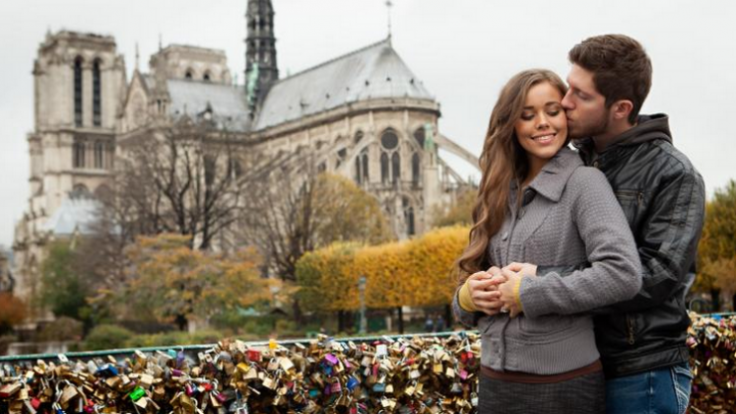 Jessa (Duggar) Seewald is just weeks away from delivering her first child and it seems she definitely has baby fever. The former "19 Kids and Counting" star took a break from responding to her brother Josh Duggar's cheating scandal on Wednesday night to share a photo of her nephew.
While her sister, Jill Dillard, may be away in Central America on a long-term mission trip, that doesn't seem to be stopping Jessa Seewald, 22, from keeping up to date on the 4-month-old's life. "My adorable little nephew! #Izzy #IsraelDavidDillard," the expectant reality star posted to Twitter, Instagram and Facebook. The post was accompanied by a shot of Israel sporting a big smile while being held.
Jessa Seewald's decision to post a candid shot of Israel came just hours after she shared a somewhat controversial post online. Just shy of two weeks after her eldest brother, Josh Duggar, admitted to having had paid accounts on the cheating site Ashley Madison, being unfaithful to his wife and having a pornography addiction, Jessa Seewald spoke out against him. She and her husband, Ben Seewald, shared a blog post written by her father-in-law, Michael Seewald, which slammed the dad of four for living an "extensive lifestyle of evil."
"It distresses me to say that Josh Duggar's greatest sin is a byproduct of the sum total of his secretly sinful lifestyle. That is, that by his hypocrisy, he blasphemed the name of God. He claimed to be a Christian, but by his deeds he has suggested otherwise," Michael Seewald wrote.
Josh Duggar, 27, entered a long-term rehabilitation treatment center on Aug. 26. He is believed to be receiving treatment at Reformers Unanimous in Rockford, Illinois.
The Seewalds are due to welcome their firstborn on Nov. 1, which is also their one-year wedding anniversary. The couple announced they were expecting in April. They have yet to share the gender of their baby, though they have told fans they know whether they're having a boy or a girl.
"We recently had an ultrasound, but aren't revealing our firstborn's gender yet. Can't wait to welcome this blessing from God into the world," Ben Seewald wrote in a June 17 blog post.
According to previous reports, Jessa and Ben Seewald want to keep their child's gender a secret until he/she is born. Despite rumors, the couple insists they're not having twins. Fans can vote whether they think the Seewald baby will be a boy or a girl on the couple's website.
© Copyright IBTimes 2023. All rights reserved.