Jessa Seewald Having Twins? '19 Kids And Counting' Star Michelle Duggar Admits She May Have Started Rumor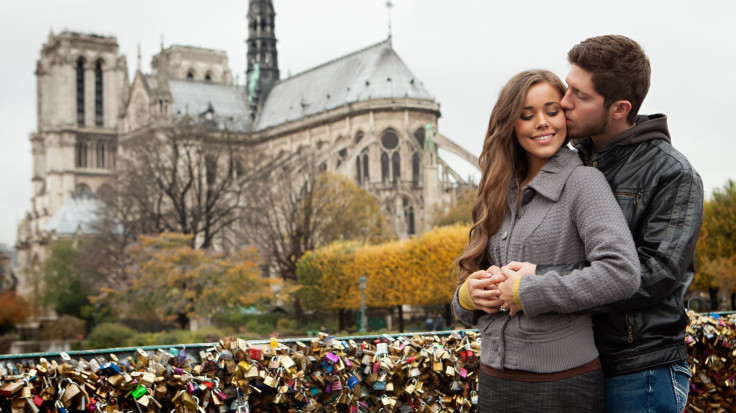 The Duggars are known for their big family, but will the "19 Kids and Counting" brood soon add two new members at once? When Jessa and Ben Seewald earlier this month confirmed they were expecting their first child, rumors the newlyweds were having twins spread like wildfire.
In their pregnancy-announcement video, the reality-TV couple is shown making smoothies, one with raspberries (pink) and another with blueberries (blue). "It's good," Jessa says to Ben. "You know, pretty soon we'll be making another little smoothie."
"Yup," Ben added. "Maybe more than one."
Later on in the video when Jessa asks her better half what gender he thinks the baby will be, he says, "Could be both."
While Jessa's 13-week-ultrasound photo showed she is pregnant with just one baby, the twin rumors are still swirling. Jessa's decision to potentially keep her baby's gender a secret, according to a report from Radar Online, hasn't helped matters. So, what's the truth? Is Jessa really having twins?
In a recent interview with KGUN 9's "The Morning Blend," Jessa's mom and "19 Kids and Counting" co-star Michelle Duggar admitted that she might be the one who started the twins rumor.
"I think maybe Mom, Grandma here, started that rumor," Michelle, who was joined by her husband Jim Bob, said. "I said to Jessa when she let us know that they were expecting, we were so thrilled. I said, 'Who knows, Jess? You may have twins!'"
Mom Michelle has birthed two sets of twins, and she expects there will be at least one pair of twins among her daughters' children. "In our family, twins kind of run in the maternal line," Michelle explained. "Surely somewhere along the way one of the girls will possibly have twins."
And despite having 19 offspring of her own, Michelle said she has a "the more the merrier" attitude when it comes to grandchildren. "I've heard people say how wonderful it is to have those grandchildren. It is like 10 times better than what they said. I so enjoy getting to be a grandma."
While "19 Kids" viewers await the arrival — and possible gender reveal — of Jessa and Ben's baby on Nov. 1, fans of the Duggar family can tune in to Jill (Duggar) Dillard's birth special Tuesday at 8 p.m. EDT on TLC.
© Copyright IBTimes 2023. All rights reserved.