Jeweled Bible, Silver Altar, Lily Font: Priceless Artifacts In Church Where Princess Charlotte Was Christened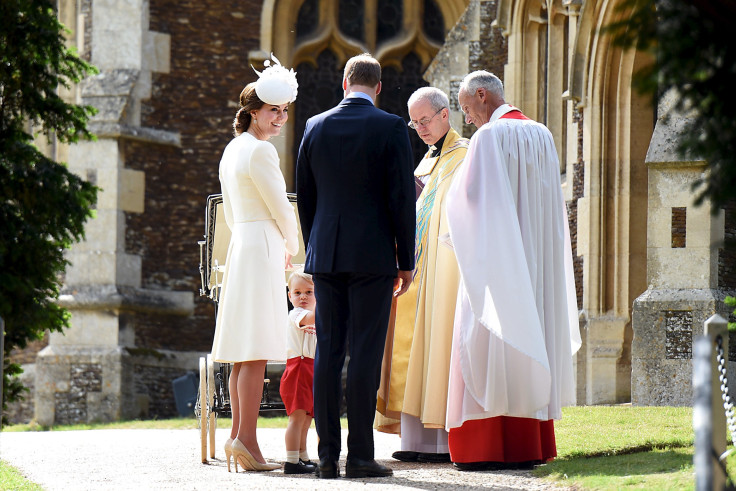 The Church of St. Mary Magdalene at Sandringham, England, may be a quiet place of worship, but it holds priceless artifacts and religious items fit for a queen. The church features a spectacular silver altar, along with a bejeweled Bible. A 175-year-old ornate silver gilded baptismal vessel called the Lily Font was also specially transported to the church for Princess Charlotte's christening.
The church dates to the 16th century and saw several notable royal christenings, such as those for Princess Diana, Princess Eugenie and King George VI. Over the centuries, the church has undergone several renovations and upgrades. One elaborate update, more than a century ago, included the installation of an impressive silver altar that was a gift from an American benefactor to the royal family, reported People. The altar is also decorated with the royal coat of arms held aloft by two angels, a gift given to King Edward VII and Queen Alexandra in 1909 by Philadelphia businessman Rodman Wanamaker.
Another extraordinary artifact is the magnificent jeweled Bible, which is covered in brass and gold. The Bible -- decorated with 500 precious stones, including sapphires, emeralds and white opals -- was another gift from Wanamaker in the same period.
A special addition to the church was a traditional royal baptismal vessel called the Lily Font, where Princess Charlotte was christened. According to the Mirror, Sunday was the first time that the Lily Font left London. The royal vessel is made of solid sterling silver and decorated around the edges with ivy and lilies, which are considered to represent purity and new life. The baptismal font is normally displayed as part of the Crown Jewels in the Tower of London. The piece reportedly weighs 22 pounds and stands 17 inches high.
The Lily Font was commissioned by Queen Victoria and Prince Albert in 1840, for the birth of their first child Victoria, princess royal. Kensington Palace shared on Sunday via an Instagram post that the baptismal font "has been a traditional feature of all of the queen's children and grandchildren's christening since, with the exception of Princess Eugenie, who was christened during morning service at the Church of St. Mary Magdalene, at Sandringham," reported E! News.
Princess Charlotte's christening was attended by the close friends and family of Prince William and Kate Middleton. Around 3,500 well-wishers gathered outside the church to witness the royal event.
© Copyright IBTimes 2022. All rights reserved.
FOLLOW MORE IBT NEWS ON THE BELOW CHANNELS