Jewish Reporter Jake Turx Defends Trump Despite Press Conference Attack Over Anti-Semitism Question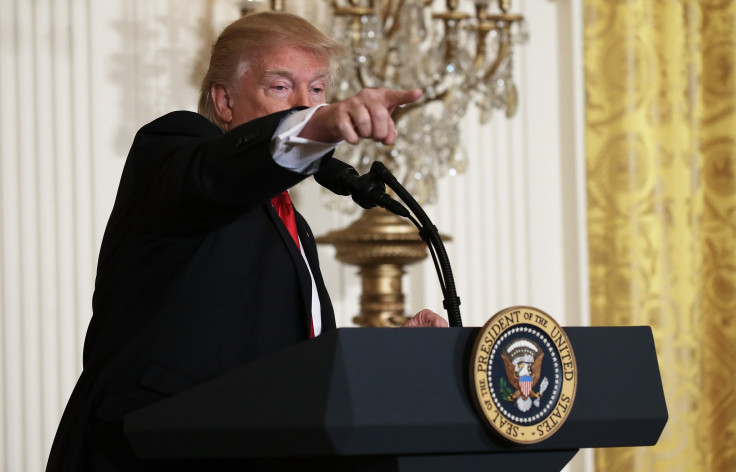 Jake Turx, a Hasidic Jew and new White House correspondent, spent a hour shaping his question about anti-Semitism to make it seem friendly to President Donald Trump. It didn't work. Trump laced into Turx Thursday in one of the most memorable moments of a press conference chock full of controversy and anger.
Trump didn't realize Turx, 30, agreed that the president had been treated unfairly when it came to claims of anti-Semitism.
"It's very unfair what's been done to him and I understand why he's so defensive," the reporter from Ami Magazine said on Fox News. "And I'm with him when it comes to being outraged about him being charged with this anti-Semitism."
Turx started his question with a preamble of sorts praising Trump, saying his community had not accused the president or his staff of anti-Semitism, but then shifted to ask about rising anti-Semitism and the frequent, recent bomb threats to Jewish community centers. Trump interrupted, calling it "not a fair question," and telling Turx to sit down because he understood where the line of questioning was going. As Trump defended himself —"I am the least anti-Semitic person that you've ever seen in your entire life. No. 2: Racism. The least racist person" — Turx attempted to interject, but was shot down by the president telling him, "quiet, quiet, quiet" and that the question was insulting.
The Anti-Defamation League and other Jewish groups rushed to Turx's defense, condemning Trump's dressing down of the reporter.
But Turx himself praised Trump's response. "I'm going to say something that will surprise you and will probably surprise a lot of your viewers, but I was actually very hopeful because it shows a president who is so committed against this problem of anti-Semitism," he said on Fox News. "That it bothers him on a personal level, a deep personal level, and it makes me very hopeful that he will work together with the community."
Turx, who dresses in traditional Hasidic garb and has side curls of hair, also praised the new president's "unprecedented amount of outreach with the Orthodox Jewish community."
© Copyright IBTimes 2023. All rights reserved.