JFK Assassination 50 Years Later: How Dallas Plans To Honor Kennedy's Life And Death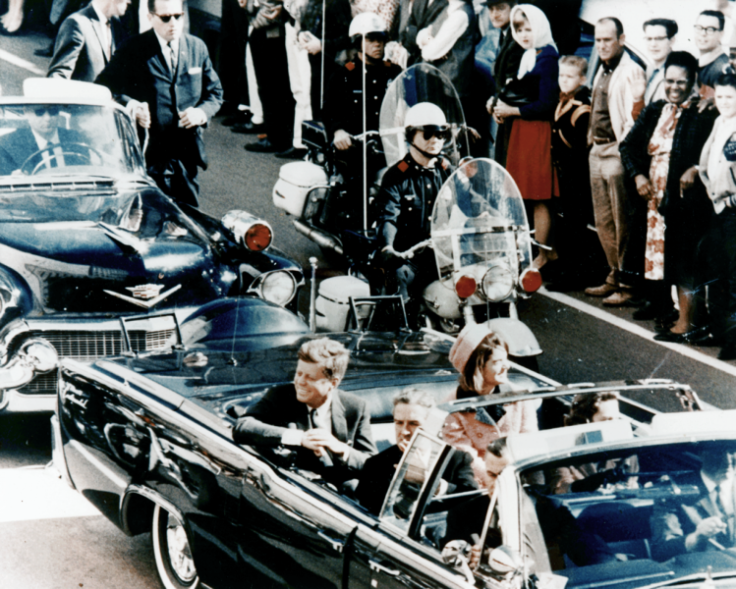 It was 50 years ago this November that John F. Kennedy, the 35th President of the United States, was assassinated while traveling through Dallas' Dealey Plaza in a presidential motorcade. The tragedy shocked a nation and would become a defining moment in each Americans' life.
Ask anyone over the age of 55 where they were the day JFK was shot, and they're sure to know more about that afternoon than any other in their childhood. It's with that thought in mind that Dallas hopes to lure those who were around in 1963, their kids and their grandkids to come to Texas in the coming weeks to mourn Kennedy's untimely death and to honor the life of one of the most revered presidential figures in American history.
A press release issued for a symposium earlier this month, signed by Dallas Mayor Michael S. Rawlings, posed the question: Was Dallas somehow to blame?
"President Kennedy's death would become a weight that our citizens, including those born after Nov. 22, 1963, would carry in their hearts for years to come. Did Dallas deserve the label that so many around the country and even the world gave to it: 'The City of Hate'?
"After half a century, it is time to look back and ask: 'What did the President's death do to the life of our city? How has Dallas changed as a result? Have we as a community looked fully and honestly into the assassination and achieved catharsis -- an emptying out of strong emotions -- or is the process still incomplete?'"
Dallas will not only reflect on its own catharsis (or lack thereof), but that of the nation as a whole when it hosts a series of events from Nov. 21 to Nov. 24.
At 12:30 p.m. on Nov. 22, Dallas will hum with the ringing of church bells and little else as the city holds a moment of silence to mark the split-second 50 years ago when Lee Harvey Oswald shot President Kennedy. A ceremony in Dealey Plaza will follow will featuring, among others, Pulitzer Prize-winning historian David McCullough, who will read a selection of the president's speeches. The ceremony is the culmination of a year of anniversary events in Dallas, and it will also include a performance by the 73-member U.S. Naval Academy Men's Glee Club, prayers and a benediction from area religious leaders and a ceremonial flyover.
The City of Dallas capped attendance at 5,000, though large screens will broadcast the ceremony across town. Beyond the memorial service, several Dallas institutions have planned their own events, exhibitions and activities for the occasion. Here's a look at some of the best:
The Sixth Floor Museum is located on the sixth floor of the old Texas School Book Depository where the Warren Commission concluded Kennedy's assassin fired his fatal shot. This Texas outpost of JFK knowledge boasts a variety of exhibits and will host a series of talks and lectures from individuals connected to the events of that fateful day.
The Old Red Museum, which faces Dealey Plaza, unveiled an exhibit this month that details the work of Major J. Erik Jonsson, who was elected mayor of Dallas after the assassination and helped the city recover from tragedy.
The Dallas Symphony Orchestra has prepared a special program for the weekend of Nov. 21-Nov. 24, including "Murder of a Great Chief of State," which Darius Milhaud composed shortly after the assassination, and a world premiere from 19-year-old Conrad Tao titled "The World is Very Different Now."
Officials arrested Oswald at the Texas Theatre, and the venue will screen the movie that he snuck into, "War Is Hell," at the price he should have paid, 90 cents, as part of its Nov. 22 program. An exhibit in the theater's Safe Room called "Things do not happen. Things are made to happen" will offer some of Dallas' most eclectic artists the chance to explore presidential themes.
The Amon Carter Museum of American Art recently opened the exhibit "Hotel Texas," which showcases works of art installed in the president's suite at the Hotel Texas during his fateful trip in 1963, including paintings by Thomas Eakins, Lyonel Feininger, Marsden Hartley and Franz Kline, and sculptures by Henry Moore and Pablo Picasso, among others.
The UT Arlington Library will display rarely seen photographs in the exhibit "Howdy, Mr. President! A Fort Worth Perspective of JFK." All photos are from the historic Fort Worth Star-Telegram Collection.
Participants involved in the JFK Day of Service (#JFKDAY) on Nov. 23 will commemorate the 50th anniversary of Kennedy's assassination and honor his legacy through community service, filling more than 2,500 volunteer slots for Dallas civic organizations.
Many Americans labeled Dallas the "City of Hate" following the assassination. Now, 50 years later, students, community arts organizations and local artists have put together a collection of some 30,000 works of art for the Dallas LOVE Project, which reflects on how Dallas has transformed into "a city where love thrives."
© Copyright IBTimes 2023. All rights reserved.