Jill Biden Reveals White House Christmas Theme With Holiday Decorations In Blue Room
First lady Jill Biden has unveiled the Christmas decorations inside of the Blue Room and other areas of the White House.
The FLOTUS shared several photos of the festive decor on Twitter featuring the Christmas theme "Gifts from the Heart."
Biden was scheduled to reveal the decorations on Monday with the theme, which was inspired by the people she and President Joe Biden met throughout their travels over the past year.
"The things we hold sacred unite us and transcend distance, time, and even the constraints of a pandemic: faith, family, and friendship; a love of the arts, learning, and nature; gratitude, service, and community; unity and peace," the Bidens wrote in the 2021 White House holiday guidebook.
"These are the gifts that tie together the heartstrings of our lives. These are the gifts from the heart."
The official White House Christmas tree, which was pictured in the Blue room, was an 18-foot Fraser fir that represents peace and unity.
Over 100 volunteers pitched in to decorate the Bidens' executive mansion as well as the Oval Office. The final tally of decorations include 41 Christmas trees, around 79,000 lights to illuminate the trees, 6,000 feet of ribbon, and over 10,000 ornaments.
The decorations also feature a Gingerbread White House. The cookie replica reportedly weighs hundreds of pounds and is a nod to front-line workers who worked throughout the pandemic.
"As we celebrate our first holiday season in the White House, we are inspired by the Americans we have met across the country, time and again reminding us that our differences are precious and our similarities infinite," the Bidens stated.
"We wish you a happy, healthy, and joyous holiday season. As we look to a new year full of possibility, may gifts from the heart light our path forward."
A second-grade class from Maryland has been invited to help the first lady unveil the decorations and a National Guard family will be in attendance as a tribute to the military response to the pandemic.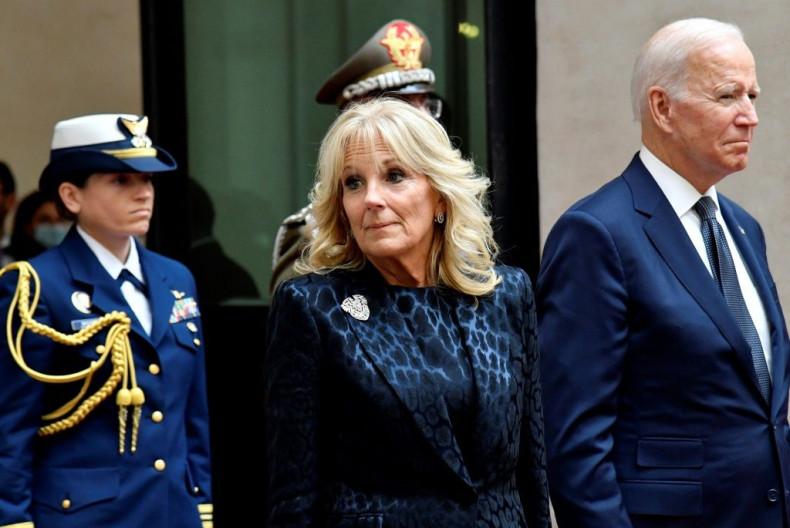 © Copyright IBTimes 2022. All rights reserved.