Jim Harbaugh-Colin Kaepernick Update: Former 49ers Coach Changes National Anthem Statement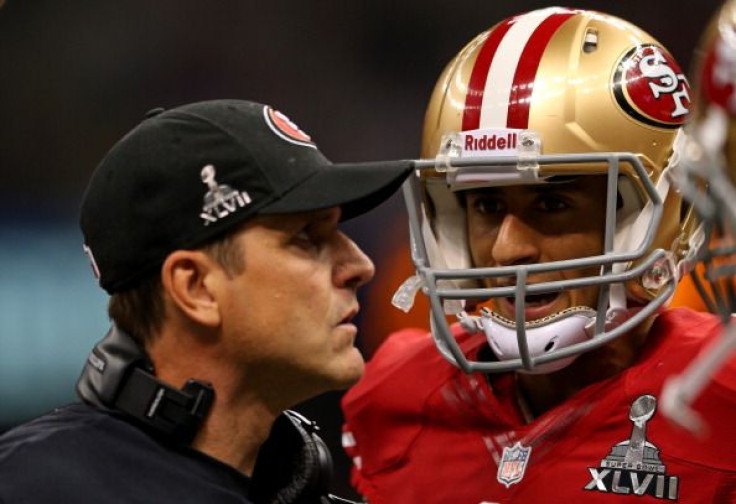 While San Francisco 49ers quarterback Colin Kaepernick has received support from MTV host Nessa Diab and transgender model Mia Isabella, a majority of people seem to be against his protest. One of those people seemed to be his former coach, Jim Harbaugh, but he soon changed his statement.
Originally, Harbaugh said he didn't "respect" Kaepernick's protest, where he refuses to stand during the national anthem to bring attention to ongoing racial tensions in the U.S. "I acknowledge his right to do that," the coach told Ann Arbor News Monday. "But I don't respect the motivation or the action."
Harbaugh quickly amended his statement, taking to Twitter to clarify what he told reporters. "I apologize for misspeaking my true sentiments. To clarify, I support Colin's motivation. It's his method of action that I take exception to," the University of Michigan coach wrote. The post quickly garnered more than 1,000 likes and shares from his 766,000 followers.
One of the things people find most offensive with Kaepernick's protest is they claim it's offensive to the U.S. military, but his stance isn't meant to be unpatriotic.
"I have great respect for men and women that have fought for this country," Kaepernick said during a press conference Sunday. "I have family. I have friends that gone and fought for this country. They fight for freedom. They fight for the people. They fight for liberty and justice for everyone. And that's not happening. People are dying in vain because this country isn't holding their end of the bargain up as far as, you know, giving freedom and justice and liberty to everybody."
Kaepernick has not stood during the national anthem for any of the pre-season games. He does not plan to stand during the national anthem for any of the regular season games, either. The footballer said he is doing this to give a voice to those who cannot be heard.
Follow me on Twitter @mariamzzarella
© Copyright IBTimes 2023. All rights reserved.