Jimmy Fallon Does Donald Trump Impersonation, Mocks His Press Conference In 'The Tonight Show'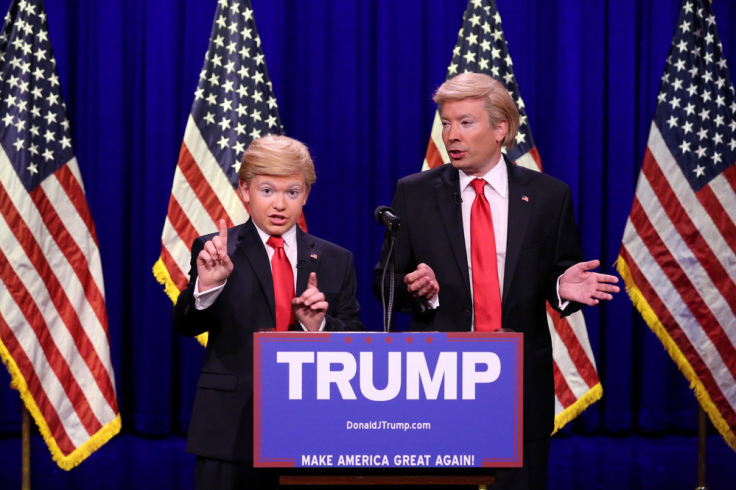 Jimmy Fallon opened "The Tonight Show" with a spoof Thursday, recreating President Donald Trump's first solo press conference earlier that day.
"Welcome, welcome. Thank me, thank me. Buckle up, because I'm coming in hot. First question. No. Next," Fallon started the show with these words.
He went on to joke about how the last four weeks have felt like four years and kept repeating how Trump "inherited a mess" of an administration.
Here are some of the notable quotes from Fallon's impersonation of Trump's speech:
Fallon as Trump addressed the assembled press: "First of all, you're all fake news, I hate you all very much, and thank you for being here. First question? No. Next."
"We've made so much progress. In fact, if you ask any American, they'll say that I've managed to make the last four weeks feel like four years. Four more weeks! Four more weeks!"
"I'm not even calling it fake news anymore. I've thought of something new. I changed the name. I'm now calling it faux news. Much classier if you think about it. Very classy. F-a-u-x. It's not pronounced fox."
You can watch the full show below:
When Fallon as Trump was asked to address his administration's recent mistakes, he replied: "Look, it's not my problem. We inherited a mess. It is such a mess not even a giant Roomba could clean it up, which we are working on with Elon Musk. It's top secret. Confidential. And I'm going to leak it in about 15 minutes."
President Trump has not commented yet on Fallon's impersonation. However, the president seemed delighted after his first solo press conference.
Trump announced his new nominee for labor secretary, Alexander Acosta, during the news conference at the White House and also went on to talk about his new executive order that is expected next week.
"We're issuing a new executive action next week that will comprehensively protect our country. So we'll be going along the one path and hopefully winning that, at the same time we will be issuing a new and very comprehensive order to protect our people. That will be done sometime next week, toward the beginning or middle at the latest part," Trump said.
© Copyright IBTimes 2023. All rights reserved.