Jimmy Savile Sex Case: British DJ Allegedly Abused Corpses And More Than 100 People At 28 UK Hospitals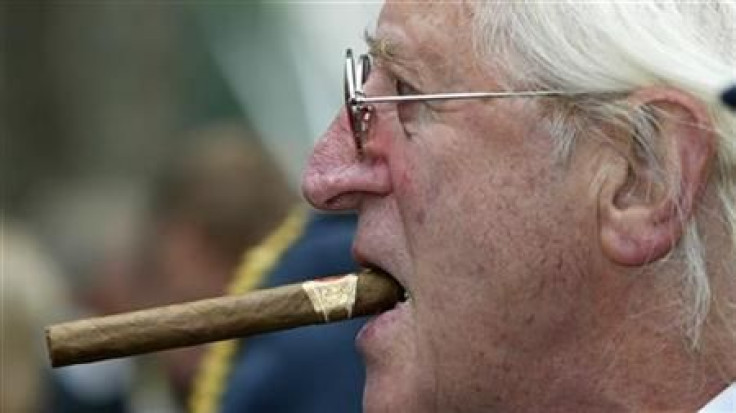 Late British DJ and television presenter Jimmy Savile allegedly had sex with dead bodies at a hospital morgue and boasted about making jewelry out of their glass eyes, according to a report released Thursday that also found Savile sexually abused victims ranging in age from 5 to 75 at 28 hospitals in the UK over a period of 50 years.
The reports, from 28 British hospitals, said Savile used his celebrity to charm his way into British hospitals, where he committed "sickening" sexual abuse. Most of the abuse was at Leeds General Infirmary and Broadmoor psychiatric hospital.
A witness interviewed for the report said he asked the "Top of the Pops" presenter about his "gross silver rings," and that the entertainer replied, "They are glass eyes from dead bodies in Leeds Mortuary where I work and I love working there, and I wheel dead bodies around at night and I love that," according to the Daily Mail.
A hospital employee said they noticed Savile wearing a ring that looked like an eyeball and that Savile told him, "It's made from the eyeball of a dead friend."
A student nurse at Leeds General Infirmary said Savile told her he performed sexual acts on dead bodies, although the report's authors said they had no way to verify the allegations.
British Health Secretary Jeremy Hunt apologized to the 103 victims, which included men, women, boys and girls of various ages, in a statement released Thursday. He said the victims were "let down badly" because their allegations weren't originally believed.
"At the time the victims who spoke up were not believed and it's important today that we all publicly recognize the truth of what they have said," Hunt wrote, according to the Independent. "Today's report [says] that in reality [Savile] was a sickening and prolific sexual abuser who repeatedly exploited the trust of a nation for his own vile purposes."
Thursday's report follows similar findings released earlier this month by the London-based National Society for the Prevention of Cruelty to Children, which found Savile abused at least 500 victims, according to the BBC.
© Copyright IBTimes 2023. All rights reserved.