Jinger Duggar Didn't Realize Jeremy Vuolo Was Proposing Marriage On 'Counting On'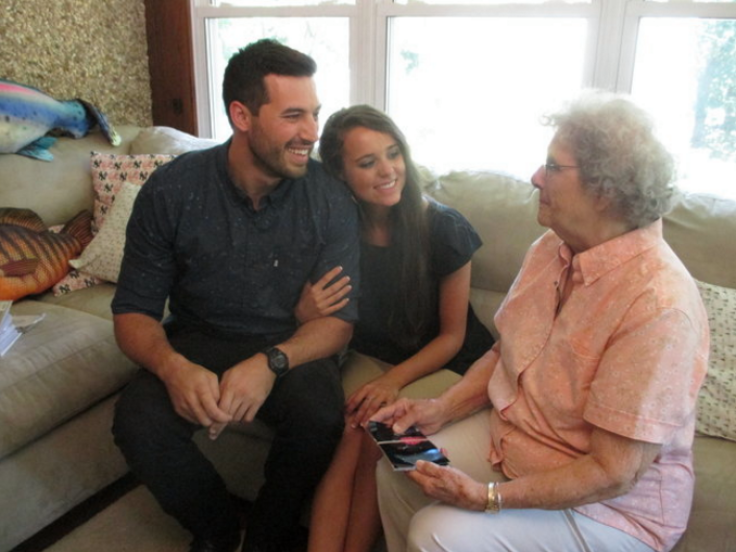 Jinger Duggar received the surprise of a lifetime on Tuesday's "Counting On" when Jeremy Vuolo, her boyfriend of several months, proposed.
After weeks of leading up to the engagement, TLC finally revealed footage from their big night in Season 2, episode 8, "Proposal in the City."
The installment kicked off with Jinger arriving on the East Coast with Jeremy, her mom Michelle Duggar, sister Jessa Seewald and brother-in-law Ben Seewald. After catching up with Jeremy's parents, and meeting his grandparents for the first time, the group headed to New York City where Jeremy planned to pop the question.
Under the guise they were going to have a photoshoot, Jeremy brought Jinger to a rooftop at sunset. Despite having a live orchestra playing her favorite hymn, Jinger didn't put the pieces together and sported a look of absolute shock when Jeremy dropped down on one knee.
"I don't think she quite put it together what was going on," Jeremy told the cameras.
After placing both hands on her face, Jinger quickly accepted Jeremy's proposal and with a big smiles, they engaged in a (potentially courtship rule-breaking) hug. Afterwards, when Jinger remarked she was speechless, Jeremy comforted her. "Yes is good enough," he said. "Yes is all I need."
"This woman who I love and want to spend the rest of my life with is now my fiancée," Jeremy later gushed to the cameras. "It's almost inexplicable the feeling in that moment." Jinger added that the entire ordeal felt "surreal."
After learning about the secret plans that lead up to the proposal, and the fact that her entire family was in on it, Jinger said she was amazed. Jeremy commented it felt like a "weight" off his shoulders after proposing and hinted their wedding might come quickly. "Hopefully a wedding soon!" he concluded with a smile.
© Copyright IBTimes 2023. All rights reserved.