Joanne The Scammer Shares Behind-The-Scenes VMA Video; 7 Things To Know About Social Media Star Branden Miller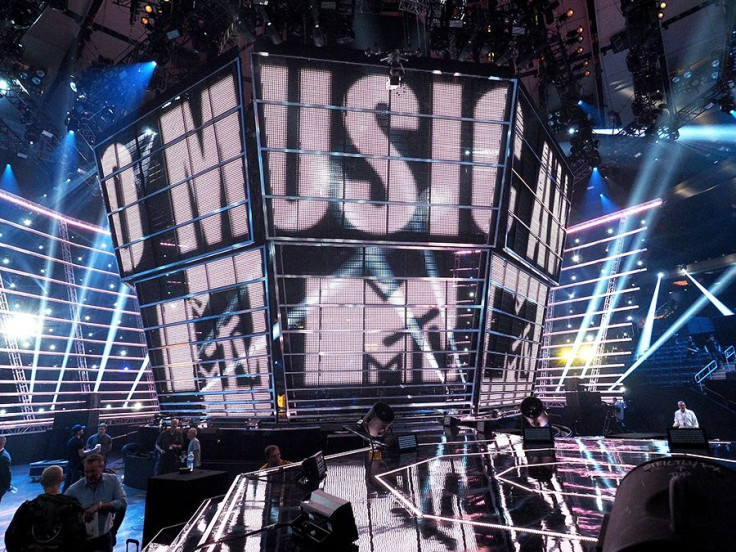 The MTV Video Music Awards had a "scammer" crash its awards show Sunday night. Some people may have noticed social media star Joanne the Scammer lurking on the red carpet and backstage at the annual ceremony, but the hilarious Internet sensation was actually an invited guest.
MTV announced Saturday that Joanne, known for her over-the-top videos and crazy one-liners, would be attending the VMAs. The appearance marked Joanne's first red carpet debut. In an Instagram video Sunday, Joanne gave her fans a sneak peek at the action on the red carpet cheerfully saying that she had "finally made it." "Honestly, honestly. I told the girls I work for E! News, little do they know I'm a struggling Floridian who is only here to steal thousands of dollars from celebrities," she said. MTV also shared a video of Joanne giving a behind-the-scenes tour of the backstage area ahead of the show. Joanne also got a chance to make a cameo appearance in Nick Jonas' performance of "Bacon."
Joanne popped up onto the scene last year, quickly gaining thousands of fans because of her videos about lying, stealing and ripping people off to get what she wants. Joanne has no problem taking from others and always does her "scamming" wearing a horrible blonde wig and a fur coat.
So is Joanne the Scammer? And more importantly who is the man behind the viral sensation? Check out seven things to know about the Instagram and Twitter star, and her creator Branden Miller.
Joanne The Scammer Was Created A Year Ago
Miller, a comedian from Florida, debuted Joanne last year. She's an extension of another character Miller used to dress up as, known as Miss Prada. In an interview with the Fader, Miller said he started dressing up as different characters because he wanted to escape his life after learning he was adopted. "Creating the characters stemmed from me finding out I was adopted, and trying to run away from that," he said. "I knew at the end of the day I wanted to be a man, but I just didn't want to be myself. I felt like everything was a lie."
A Family Friend Told Miller He Was Adopted
Miller said he was adopted as a baby by an older white couple, but had no idea they weren't his biological parents until someone close to the family broke the news to him when he was 17. Miller said he went a majority of his younger years thinking he was white so when the family friend told him about the adoption, he was devastated. Miller is actually Black and Puerto Rican. "I read my adoption papers when I found out," he said. "It said a lot about my mom, but not her name, nothing I could contact. On my dad's side it was just like, 'Black and tall.'
Miller Used To Do Porn
Miller, an openly gay man, said he started doing porn at 18 to help pay his bills. He was able to stop once Joanne's videos took off and he started being asked to make appearances as the character.
Miller Didn't Think People Would Like Joanne The Scammer
During an interview with Paper magazine, Miller said he thought Joanne being a scammer and criminal would be too "dark" for people. "I always expected there to be an audience, but I never anticipated that it would be picked up so easily, and by so many," he explained. "People relate to Joanne."
Miller Is The Victim Of A Scam
Ironically, Miller was the victim of a scam in May when a hacker took over his Twitter account and demanded he pay $500 to get it back. According to BuzzFeed, Miller said he got an email he thought was from Twitter's verification team asking him to confirm personal information about his account. Once he did, Miller found he had been locked out of his account. Twitter was eventually able to help him get the account back.
Joanne the Scammer Has A Lot Of Celebrity Followers
Among Miller's thousands of fans are celebrities such as Amber Rose, Blac Chyna, Solange Knowles, Katy Perry, Jhene Aiko and "Girls Meets World" star Rowan Blanchard.
A YouTuber Inspired Him To Start Posting Videos As His Characters
Miller told the Fader that he used to watch Chris Crocker's YouTube video "leave Britney [Spears] alone" over and over again when he was younger. Miller said he started posting his own videos because he wanted to be funnier than Crocker. "I thought I was going to blow up on YouTube, like him, because I thought I was funnier," he said.
© Copyright IBTimes 2023. All rights reserved.