Why Didn't Alicia Keys Put On Any Makeup At The 2016 MTV VMAs? Singer Continues Makeup-Free Movement [PHOTOS]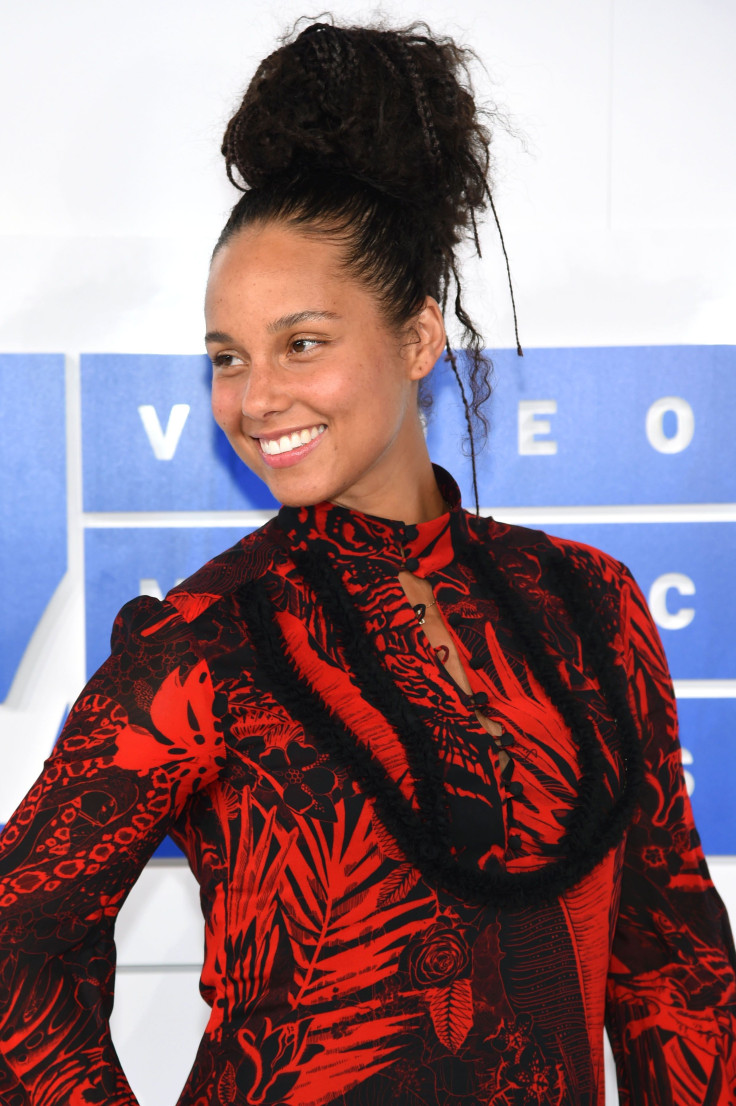 It looks like a new trend is catching on amongst stars. Several celebrities, including Grammy award winner Alicia Keys, are ditching layers of concealers, foundation, kohl-lined eyes and blush for a makeup-free look. At the 2016 MTV Video Music Awards on the night of Aug. 28, Keys walked the red carpet and presented the award for the best male video without a drop of makeup on her pretty face.
So why is the 35-year-old sans makeup these days? Keys not only went makeup-free at the VMAs, but she also sported a natural look at the 2016 BET Awards, during a season preview of "The Voice" alongside Miley Cyrus and on the album cover of her new single "In Common." The singer has, in fact, vowed to flaunt her natural beauty as a part of a makeup-free movement.
In May 2016, she penned a Lenny letter which explained her decision to top hiding. "This was the harsh, judgmental world of entertainment and my biggest test yet," Keys wrote, "I started, more than ever, to become a chameleon. Never fully being who I was, but constantly changing so all the 'they's' would accept me."
"Before I started my new album, I wrote a list of all the things that I was sick of," the singer explained, "And one was how much women are brainwashed into feeling like we have to be skinny, or sexy, or desirable, or perfect."
Finally, Keys decided to adopt a new makeup-free mantra, "I hope to God it's a revolution," the songwriter said, "Cause I don't want to cover up anymore. Not my face, not my mind, not my soul, not my thoughts, not my dreams, not my struggles, not my emotional growth. Nothing."
Several celebrities have gone makeup-free the past few years including Adele, Tyra Banks, Kylie Jenner, Cameron Diaz, Lady Gaga, Sharon Stone, Salma Hayek, Gigi Hadid and Laverne Cox.
© Copyright IBTimes 2023. All rights reserved.