Joaquin Phoenix Celebrates SAG Awards Win By Comforting Pigs
KEY POINTS
Joaquin Phoenix celebrated his Best Actor win at the SAG Awards by visiting a slaughterhouse
Phoenix wants the people to know the truth about the meat and dair industry
The actor won Best Actor at the Golden Globes and Critics' Choice Awards as well
Joaquin Phoenix won the Screen Actors Guild (SAG) award for Best Actor for his portrayal of the clown prince of Gotham in Todd Phillips' blockbuster hit "Joker." But instead of celebrating the win with his fellow actors, he was spotted traveling back to Vernon, California to spend time with some pigs.
According to a report, the 45-year-old actor spent his time in Vernon outside a slaughterhouse to comfort pigs who were being taken inside. Phoenix and other activists that were present there provided food, water and support to the animals and urged others to join them so that the animals can be saved.
The esteemed actor also noted that most people do not know about the pain the animals go through every day since the meat and dairy industry has proven to be really "torturous" for pigs. The "You Were Never Really Here" actor also highlighted the fact that people need to get the picture of animals being happy in farms out of their minds because this is not true at all.
"Most people do not really know of the torture and murder in the meat and dairy industry. We have moral obligations to talk about it. We are so indoctrinated with these happy images of animals on farms, on the covers of meat containers, and it is a lie," Phoenix said.
Phonix concluded by saying that people need to know the truth of the industries that are exploiting animals in the name of goods.
On the other hand, the founder of L.A. Animal Save, Amy Jean Davis, who was responsible for organizing the protest praised Phoenix for his commitment and shared that he has always been a regular attendee of their protests. Davis also explained that she is really grateful for Phoenix's support because his voice could really make a difference.
Phoenix has been vegan for a long time now and due to his sincere efforts, the menu of this year's Golden Globes was vegetarian. Last year, the "Gladiator" star was named People for the Ethical Treatment of Animal's (PETA) person of the year. The organization applauded the actor for his commitment to supporting animal rights and showing compassion for other life forms.
In related news, Phoenix is making all the right noises before the Academy Awards in February since he has won the Best Actor trophy at all the three major award shows – Golden Globes, Critics' Choice and Screen Actors Guild. The actor is now the frontrunner for the accolade at the Oscars.
The 92nd Academy Awards will take place on Feb. 9 in Los Angeles.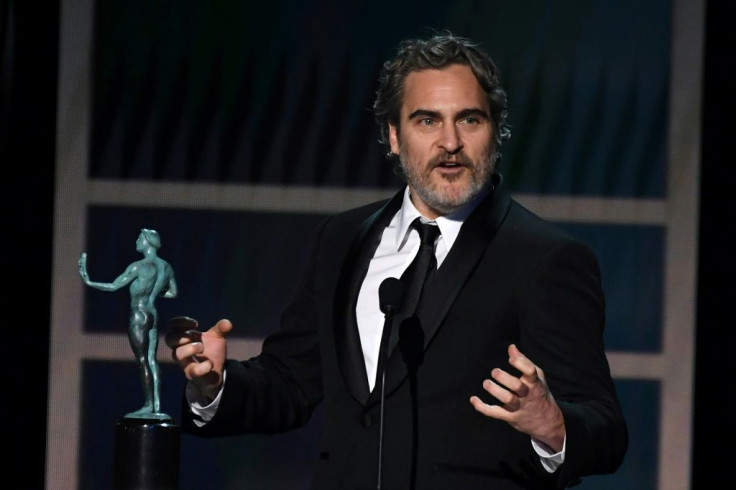 © Copyright IBTimes 2023. All rights reserved.