Joe Biden Sexual Assault Allegation: 1996 Court Document Shows Reade Told Of Harassment In Office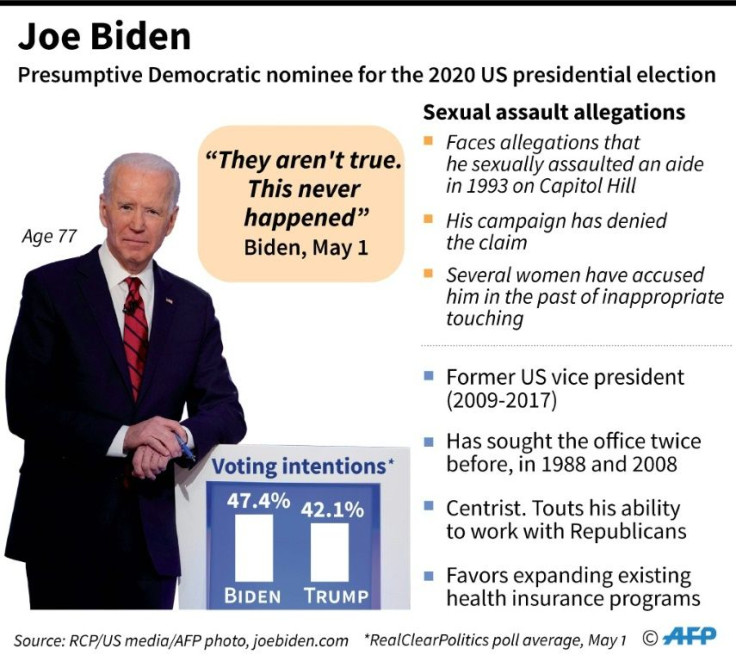 KEY POINTS
The document filed by Reade's ex-husband mentioned sexual harassment in Biden's office, but not name Biden himself
Dronen and Reade were dating in 1993 when the alleged Biden assault occurred
Reade told journalist Megyn Kelly she believes Biden should end his campaign
Accusations of sexual misbehavior are almost always a case of the accuser's word versus the accused. There are no eyewitnesses so both sides must depend on other methods to lend credence to their story. In the case of Tara Reade's accusations against former Vice President Joe Biden, one "other method" is a 1996 court document filed by her ex-husband, Theodore Dronen.
According to Reade, Biden pushed her up against a wall in a semi-private hallway, reached under her skirt, and touched her inappropriately.
Dronen and Reade were dating in 1993 when the alleged Biden assault occurred. The pertinent text in the document, obtained by The Tribune in San Luis Obispo, California, read, "On several occasions Petitioner [Reade] related a problem that she was having at work regarding sexual harassment in U.S. Senator Joe Biden's office. Petitioner told me that she eventually struck a deal with the chief of staff of the Senator's office and left her position."
A few sentences later read, "It was obvious that this event had a traumatic effect on Petitioner, and that she is still sensitive and effected by it today (sic)."
What will be a key point moving forward is that the document mentions sexual harassment in Biden's office but does not name Biden himself.
To presumably help strengthen her case against Biden, Reade is turning to a 58-second video clip from CNN's Larry King Live recorded in August of 1993 when King took a call from a woman that Reade identified as her mother, who passed away in 2016.
The discussion in the clip was about working conditions in Washington D.C. described as "toxic" where the woman is heard saying, "I wonder what a staffer would do besides go to the press in Washington. My daughter has just left there, after working for a prominent senator, and could not get through with her problems at all, and the only thing she could have done was go to the press, and she chose not to do it out of respect for him."
On Thursday, Reade told journalist Megyn Kelly she believes Biden should end his campaign.
"I wish he would, but he won't," Reade said. "But I wish he would. That's how I feel emotionally."
Reade is also messaging some political heavyweights. She sent a text April 24 that read, "My mother reached out in August 1993. Joe Biden sexually harassed & sexually assaulted me. Those who remain silent are complicit to rape."
The text, obtained by The Intercept, an online news publication of First Look Media, was sent to Stacey Abrams, Kamala Harris, Tulsi Gabbard, Elizabeth Warren, Amy Klobuchar, and Michelle Obama, all prominent Democratic women. Also included as recipients were former President Barack Obama and someone with the initials AOC, presumably Alexandria Ocasio-Cortez, and DNC, presumably the Democratic National Committee.
Reade is also getting some free legal advice from Attorney Douglas Wigdor who donated to current President Donald J. Trump's 2016 election campaign.
Biden has denied all the allegations. He denied them in an interview with MSNBC and said to the interviewer Mika Brzezinski, "No, it's not true. I'm saying unequivocally it never, never happened. And it didn't."
Democratic party members are in a quandary. If they choose to support Biden, they risk the charge of having a double standard based on their treatment of Supreme Court Justice Brent Kavanaugh during his 2019 confirmation hearings. If they support Reade, they risk damaging Biden's chances at defeating Donald Trump, the usual target of their umbrage, in November.
Biden's best "other method" might be a few Senate staffers who worked in his office at the same time as Reade. According to The New York Times, they do not recall talk of any such incident, and the newspaper's investigative team was unable to verify Reade's claims.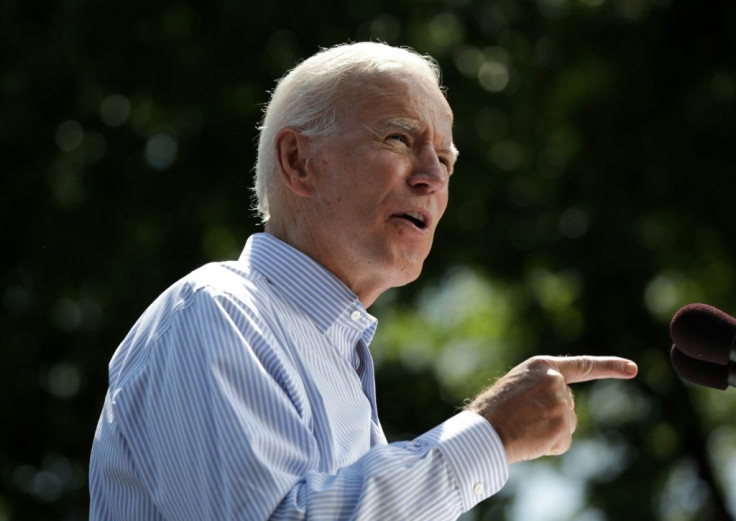 © Copyright IBTimes 2023. All rights reserved.