Joe Duggar And Kendra Caldwell Are Married! See First Official Photos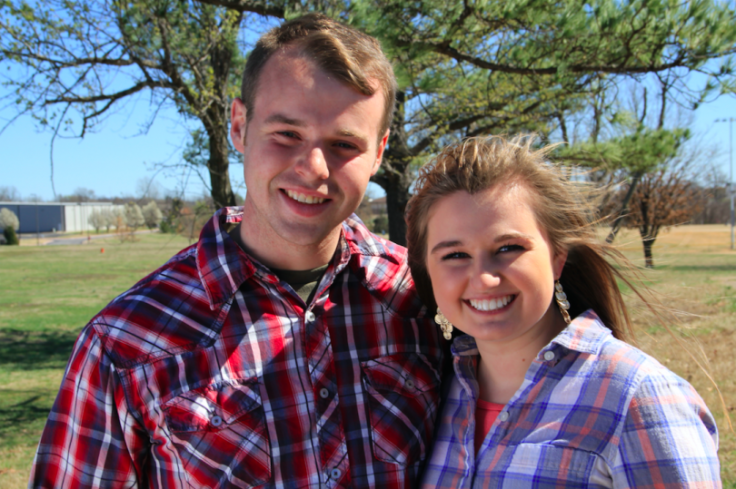 The famous Duggar clan is officially one member stronger following the wedding of third oldest son Joseph and Kendra Caldwell.
According to People Magazine, Joseph and Kendra married on Friday, Sept. 8, at the First Baptist Church in Siloam Springs, Arkansas. The nuptials included navy colors with hints of burgundy and soft yellow, with a classic, formal and romantic feel. The reception featured cupcakes, coffee and salty snack food.
In a statement to People after the wedding, Joe, 23, revealed how thrilled he was to finally be married to the 19-year-old, whom he'd been courting for a while and proposed to at his sister Joy-Anna's wedding to Austin Forsyth in May.
"It is an amazing feeling to be husband and wife," he said. "It's something that I've always dreamed of to have a wife and to raise a family in a way that honors the lord. We are very excited to see what God has in the future for us."
The couple's wedding featured a wedding party of 22 people. Among the groomsmen were Joseph's brother, Josiah, 21, as Best Man. His brothers John-David, 27, Jedidiah, 18, Jason, 17, James, 16 and Justin, 14, also served as members of the wedding party.
The bride's sister, Lauren, served as her maid of honor, while her 10 bridesmaids included her mother Christina and Joe's sisters, Jana, 27, Jill, 26, Jessa, 24, Jinger, 23, Joy, 19, Johannah, 11, and Jennifer, 10.
The first official photo of the newlyweds appeared on the family's blog, along with wishes for the couple's future together.
"Congratulations to the Newlyweds! It's an amazing and exciting day for our family! We loved sharing your big day with you and look forward to the amazing days ahead the Lord has in store for you both!" The short post read.
Initially, the couple was expected to wed on Oct. 7 of this year, according to their Amazon wedding gift registry. It's unclear why the wedding instead took place one month prior to the initial date.
According to the registry, the couple has already received a few of the gifts they asked for, including four $25 gift cards to Cracker Barrel, two $50 gift cards to Lowe's Home Improvement, two $50 gift cards to P.F. Chang's, two 4-shelf shelving units, and one travel tea and coffee mug.
Among his famous siblings, Joe is only the second son to marry. His oldest brother, Josh, 29, who was embroiled in two different sex scandals in 2015, has been married to his wife, Anna, in 2008. Since then, the couple has already welcomed four children together—Macykenzie, Michael, Marcus and Meredith. They are expecting their fifth child together sometime this year.
Several of the Duggar sisters have married throughout the years however, with Jill and Jessa's wedding to Derrick Dillard and Ben Seewald in 2014 being shown on "19 Kids and Counting" before the show was canceled due to the scandal surrounding Josh. They have each welcomed two kids since then, with Jill and Derrick welcoming Israel in 2015 and Samuel this past July, while Jessa and Ben welcomed Spurgeon in 2015 and Henry in February of this year.
The spin-off show focusing on the kids as they grow, "Counting On," has since also featured Jinger's wedding to Jeremy Vuolo in 2016, as well as Joy-Anna's wedding to Austin Forsyth. Joy and Austin have since announced that they are expecting their first child together, who will be born in 2018.
Season 3 of "Counting On" premieres Monday, Sept. 11 at 9 p.m. EDT on TLC.
© Copyright IBTimes 2023. All rights reserved.