When Is Joy-Anna Duggar Due? Watch Her Pregnancy Announcement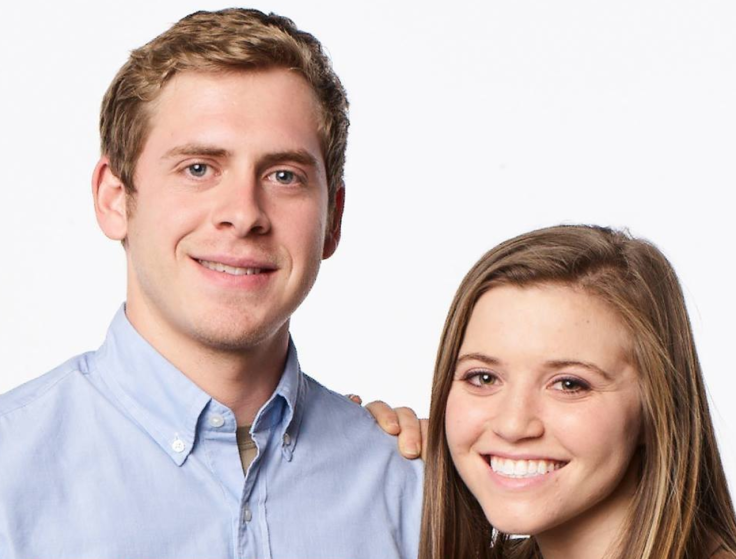 Joy-Anna Duggar is pregnant! The "Counting On" star shared the big news alongside husband Austin Forsyth in a video for TLC on Wednesday.
"Before we even were married we were praying that God would give us kids and we're so thankful that he has," Joy said in the video. Alongside the announcement video were photos of Joy eating ice-cream out of a bowl labeled "eating for two."
"We're so happy to announce that we're pregnant," Austin added. "When we found out we were pregnant we were both extremely happy and felt blessed."
While Austin and Joy did not reveal if they know their baby's gender just yet, Austin predicted they will welcome a daughter. "There's kind of been a trend with having boys in the family. I think we're going to break it and have a girl," Austin said. "I think it's a boy," Joy added.
Joy and Austin, who wed in late May, also did not reveal an exact due date for their first bundle of joy. However, it's typical for the Duggars to announce their pregnancies right after discovering the big news themselves. This means Duggar fans could expect baby Forsyth to arrive as early as February.
While it will be some time before the baby makes his or her debut, the couple is already set on how they want to raise their child.
"I hope that our child is pretty much just like their mother. Selfless and always serving and loving people," he said. Meanwhile, Joy said she hopes their child is skillfull and diligent, like her husband.
Also on their minds is who the child will take after appearance wise: mom or dad. "I am really looking forward to seeing what the baby looks like," Joy confessed.
"I'm looking forward to having them in our lives and taking them to places we go and letting them experience life," Austin added.
Before she enters motherhood, Joy said she has already received good parenting advice from her siblings, Jessa Seewald and Jill Dillard, who both have two children. "I think I'm going to be asking a lot more questions closer to the time when the baby's almost here," Joy said.
Understandably, Joy's parents are thrilled by the pregnancy news. Jim Bob and Michelle Duggar took to their blog on Wednesday to rejoice in the announcement. "We are so blessed to share that Joy and Austin are expecting!!" the pair wrote. "We know they will be such wonderful parents! We can't wait to meet this little one!"
Joy's pregnancy shouldn't come as a shock to fans. Not only was she vocal about her and Austin's desire to start a family prior to their spring wedding, her father also revealed last month during a "Counting On" special that her expected her to be pregnant next.
Despite daughter Jinger Vuolo marrying several months earlier than Joy, Jim Bob said during the tell-all episode that fans could anticipate a pregnancy announcement from Joy and Austin in Season 3 of "Counting On."
"...Maybe Joy and Austin will have a little one on the way. You never know what will happen," he hinted.
"Counting On" returns to TLC on Sept. 11.
© Copyright IBTimes 2023. All rights reserved.