John Cena, Brock Lesnar Returning To 'Monday Night Raw' After SummerSlam 2017?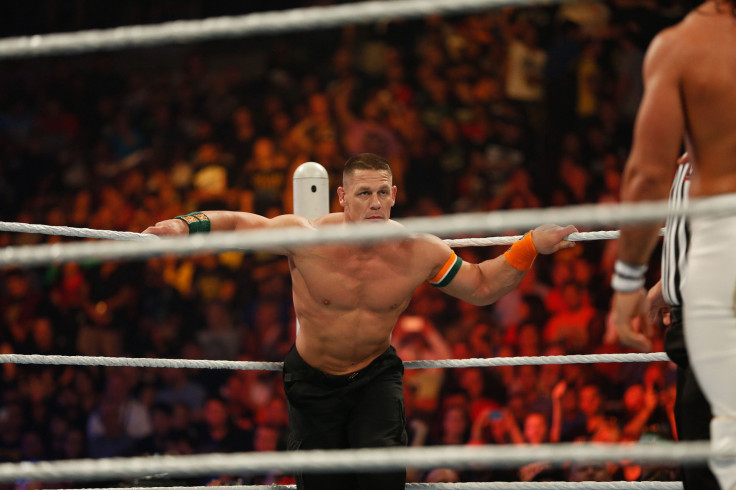 It's been more than a year since John Cena and Brock Lesnar have both appeared on the same episode of "Monday Night Raw." The latest WWE rumors indicate that might not be the case for much longer, and the two biggest names in the company could be on the same episode shortly after SummerSlam 2017.
FedExForum is advertising appearances by both Cena and Lesnar for when "Monday Night Raw" returns to Memphis on Aug. 28. Barclays Center deleted a tweet that announced Lesnar would be on "Monday Night Raw" 24 hours after SummerSlam, according to Cageside Seats, potentially spoiling the result of the pay-per-view's main event.
Paul Heyman has repeated on multiple occasions that Lesnar will leave WWE if his client loses the WWE Universal Championship at SummerSlam. Lesnar will defend his belt against Roman Reigns, Braun Strowman and Samoa Joe in a fatal 4-way match.
Of course, Lesnar could lose his title and WWE could create a reason within the storyline why the former UFC Champion might show back up on TV. The more likely answer, however, is that Lesnar will remain the champion after Sunday night. He's the favorite to do so, having won the belt from Goldberg at WrestleMania 33 and successfully defended it against Joe at Great Balls of Fire.
For Cena, appearing on "Monday Night Raw" was the norm for many years. But the 16-time world champion has exclusively been a "SmackDown Live" performer since last year's brand split.
Cena wasn't moved during April's Superstar Shake-up, but WWE has made it clear that he will be showing up on "Monday Night Raw" at some point in the near future. Cena took a break from in-ring action for three months after beating The Miz at WrestleMania 33, and WWE described him as a "free agent" when he returned to WWE on July 4.
"The reason that I wanted to be a free agent and the reason they kind of granted my request is because I don't know if I'll be available for Smackdown specific only or Raw specific only, and I also know that my days are numbered," Cena told Complex last month. "I just turned 40 in April and we have so many young and talented performers, I don't know how many years I have left. So in the time I have left, I'm gonna do what I can to dedicate to this company I just want to be able to do it the most time that I possibly can."
Cena will have a match against Baron Corbin at SummerSlam, and his free-agent status will allow him to face members of the "Monday Night Raw" roster at future PPV's. Don't be surprised if he challenges for the WWE Universal Championship at some point before the end of 2017.
The ability to appear on "Monday Night Raw" might ultimately lead to a clash between Cena and Roman Reigns at WrestleMania 34. That match would almost certainly be the main event of the April 8 PPV in New Orleans.
© Copyright IBTimes 2023. All rights reserved.