John McCain Diagnosed With Glioblastoma, Symptoms To Know About Aggressive Brain Tumor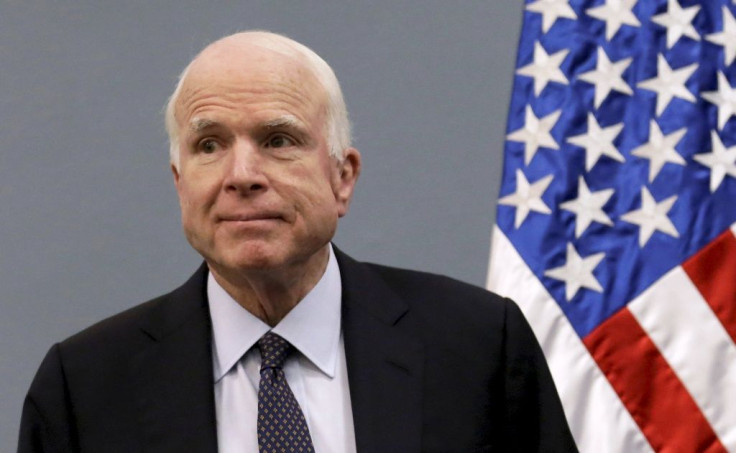 Sen. John McCain of Arizona— who underwent cranial surgery Friday to remove a blood clot — has been diagnosed with an aggressive type of cancerous tumor known as glioblastoma, Mayo Clinic Hospital announced in a statement Wednesday.
"The senator and his family are reviewing further treatment options with his Mayo Clinic care team. Treatment options may include a combination of chemotherapy and radiation. The senator's doctors say he is recovering from his surgery 'amazingly well' and his underlying health is excellent," the hospital's statement posted on McCain's official website said.
Read: WWE 'Tough Enough' Winner Matt Cappotelli Undergoes Second Surgery For Brain Tumor
The 80-year-old senator's office said in the statement he is "confident that any future treatment will be effective."
Compared to other cancers, brain and other nervous system cancers are rare. Glioblastoma — a grade four tumor — is an aggressive tumor, meaning it grows and spreads quickly. It can be further classified into primary and secondary. When the tumor originates in the brain without prior clinical evidence of a less malignant precursor lesion, it is known as primary glioblastoma and is the more common form of the tumor. Secondary glioblastoma is developed from a lower grade astrocytoma, which is a type of brain cancer. Although aggressive, secondary glioblastoma has a longer and somewhat slower growth history.
According to American Brain Tumor Association (ABTA), glioblastoma represents 14.9 percent of all primary brain tumors and it has the highest number of cases of all malignant tumors. National Cancer Institute estimated 23,800 new cases of brain and other nervous system cancers in 2017.
While glioblastoma is often located in the cerebral hemispheres of the brain, it can be found anywhere in the brain or spinal cord. Like many tumors, the cause of glioblastoma is not known. This type of cancer often occurs in adults between the ages of 45 and 70.
Symptoms of glioblastoma differ depending on the location of the tumor. However, these symptoms include constant headaches, double or blurred vision, vomiting, drowsiness, weakness on one side of the body, memory loss, muscle weakness, loss of appetite and speech difficulties.
McCain recently made headlines after asking seemingly unrelated questions to ex-FBI Director James Comey during the latter's testimony to Senate Intelligence Committee on June 8. His questions did not focus on President Donald Trump's presidential campaign's alleged collusion with Russia during the 2016 election. He continued to press Comey on Democratic candidate Hillary Clinton's email investigation, and at one point, referred to Trump as Comey. At the time, McCain laughed it off saying he stayed up late watching the Arizona Diamondbacks games the night before the testimony.
It is important to note that all the symptoms listed above may be associated with several other health conditions and are not limited to glioblastoma or cancer. It is always important to consult with a doctor for proper diagnosis, and not jump to conclusions based on information available on the internet.
According to ABTA, glioblastoma can be difficult to treat because it contains different types of cells, some of which may respond well to certain therapies and some may not. Due to this, glioblastoma's treatment combines different approaches.
Read: Prince's Drummer John Blackwell Jr. Dead At 43 After Battle With Brain Tumor
"The first step in treating glioblastoma is a procedure to make a diagnosis, relieve pressure on the brain, and safely remove as much tumor as possible through surgery. Because gliblastomas have finger-like tentacles, they are very difficult to completely remove. This is particularly true when they are growing near the parts of the brain that control important functions such as language and coordination," ABTA stated on its website. "Radiation and chemotherapy may be used to slow the growth of tumors that cannot be removed with surgery. Chemotherapy may also be used to delay the need for radiation in young children."
Survival chances for adults diagnosed with glioblastoma — and treated with concurrent temozolamide (an oral chemotherapy drug) and radiation therapy — are about 14.6 months, while the two-year survival rate is 30 percent, according to the association.
FOR FREE to continue reading
✔️ Unlock the full content of International Business Times UK for free
offer available for a limited time only
✔️ Easily manage your Newsletters subscriptions and save your favourite articles
✔️ No payment method required
Already have an account?
Log in
© Copyright IBTimes 2023. All rights reserved.