John Oliver Criticizes State Abortion Laws After Kasich Signs Ohio Bill To Defund Planned Parenthood [VIDEO]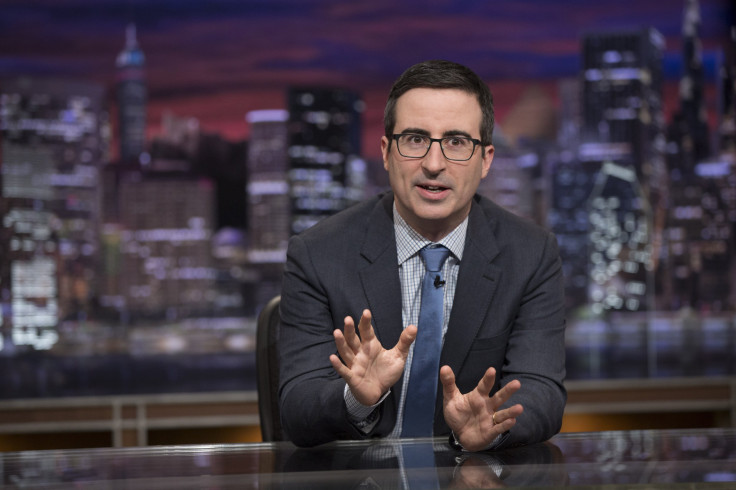 Abortion is one of the more polarizing topics in American politics, so leave it to HBO's "Last Week Tonight" host John Oliver to devote over 15 minutes of his show Sunday to weighing in on the controversial issue.
As per Roe v. Wade in 1973, abortion is legal nationally in the United States. However, for years conservative groups in many states have been successful in getting laws passed to restrict access to abortion for women in those states. Oliver says that is a little strange.
According to the comedian, "the key Supreme Court decision concerning abortion is not Roe v. Wade, it is the 1992 Planned Parenthood v. Casey ruling," which allowed states to pass laws restricting abortion as long as they did not put "substantial obstacles" in the path of a woman seeking an abortion.
"That means states can make women jump through a few hoops, just not too many," said Oliver, "which would be less insulting if those weren't also the rules of a dog agility contest."
Oliver went on to criticize the hypocrisy of laws, such as restrictions requiring abortion clinics to have local hospital admitting privileges, passed in the avowed interest of protecting women's health. The comedian contends they do not such thing, pointing out that the mortality rate for legal abortions is lower than that of getting a colonoscopy.
Watch John Oliver critique state abortion laws on "Last Week Tonight" below:
The issue of abortion has played a major role in the current Presidential primaries, especially on the Republican side. Front-runner Donald Trump drew criticism from establishment Republicans after defending Planned Parenthood, one of the largest national providers of abortions, during the most recent Republican debate. More recently, Ohio Gov. John Kasich, who is running as a moderate, positive alternative to Trump, signed a law effectively defunding Planned Parenthood in his state just hours before Oliver's live broadcast — the Ohio law restricts state funding for health centers that offer abortion services.
The issue will only become more polarizing as the national debate over replacing the late Justice Antonin Scalia on the Supreme Court intensifies. The Supreme Court is scheduled to hear a case from Texas next month that could potentially set a new precedent for abortion laws in the United States.
© Copyright IBTimes 2023. All rights reserved.