Johnson And Johnson vs. Pfizer: Experts Reveal Which COVID-19 Vaccine You Should Take
KEY POINTS
The US FDA approved a vaccine from Johnson & Johnson for emergency use
Experts say choosing a specific vaccine brand would hinder mass vaccination efforts
J&J is expected to ship 100 million doses by the end of June
The U.S. Food and Drug Administration on Saturday granted emergency use authorization for the Johnson & Johnson coronavirus vaccine, prompting many people to ask which of the three vaccines now available should they get.
The answer, experts say, is whatever is offered to you.
Health experts say it would be difficult to get a specific brand of vaccine at this point in the rollout. Giving Americans the opportunity to choose would also hinder the goal of mass inoculation, which is to protect as many people from the coronavirus pandemic as quickly as possible.
"What we really are hoping for and what we want out of these vaccines is that we keep people out of the hospital and we keep people from dying," Joshua Barocas, an infectious-disease physician at Boston Medical Center, told The Washington Post.
"Most vaccine sites administer one [type of] vaccine on a given day," Manisha Juthani, an infectious-disease specialist at Yale Medicine, also told The Post. "If you go to a site and they are not administering a vaccine that you want, you will miss your opportunity and have to reschedule while the same thing could happen on another day."
Johnson & Johnson is expected to start shipping millions of doses of its COVID-19 vaccine, and it announced that it would provide the U.S. with at least 100 million doses by June. Together with the 600 million doses of vaccines from Pfizer/BioNTech and Moderna, every adult in the country would likely be inoculated during the next four months.
The J&J vaccine is markedly different from the other two vaccines authorized for use in the U.S. Here's a brief comparison.
How many shots are needed?
Americans only need a single shot of the J&J vaccine to receive protection against the coronavirus. In comparison, Pfizer/BioNTech and Moderna vaccines are given in two shots 21 to 28 weeks apart.
How well does it work?
The FDA's recent review of the J&J vaccine found that it was more than 80% effective against preventing severe cases of the COVID-19. However, it had a lower efficacy rate among high-risk older adults.
The Pfizer/BioNTech vaccine is 95% effective against the coronavirus, while the Moderna's shots have an efficacy of 94%.
The J&J coronavirus vaccine also is effective against the highly contagious B.1.351 variant first identified in South Africa.
What are its side effects?
Compared with the Pfizer/BioNTech and Moderna vaccines, J&J's shots are less likely to cause side effects that require monitoring.
Some of the side effects experienced by those who took part in the J&J clinical trial were pain in the injection site, cited by 48.6% of the participants ; headache, 38.9%; fatigue, 38.2%; and muscle pain or myalgia, 33.2%.
During the clinical trial, there weren't any reports of anaphylaxis — a severe and potentially life-threatening allergic reaction that brings on skin rash, nausea, difficulty breathing, and shock. Anaphylaxis was reported by people vaccinated with Pfizer's or Moderna's shot, but the reaction took place in the same time frame that influenza vaccine was given, according to the CDC.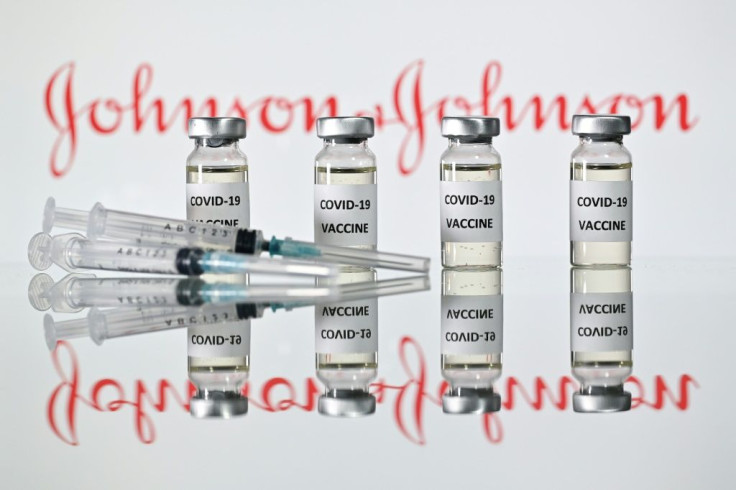 © Copyright IBTimes 2022. All rights reserved.
FOLLOW MORE IBT NEWS ON THE BELOW CHANNELS