Josh Hutcherson Jokes About His Height, Dating Kate Upon During 2014 MTV Movie Awards Acceptance Speech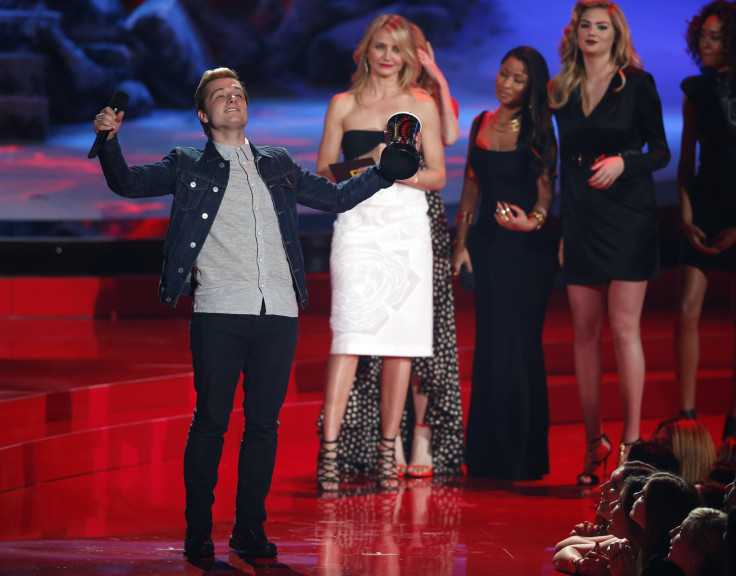 At 5 feet 7 inches tall, actor Josh Hutcherson is constantly referred to as one of Hollywood's shortest leading men, but it appears the 21-year-old actor has a good sense of humor about his small stature.
Prior to winning the award for Best Male Performance at the 2014 MTV Movie Awards Sunday night, presenter, supermodel and "The Other Women" actress Kate Upton, 21, told Hutcherson that she wouldn't mind dating him in a dystopian world, similar to one he stars in in the "Hunger Games."
"And Josh Hutcherson, if we lived in a dark future, if a controlling government made us fight for our lives and we had to eat poisoned berries and stuff, I'd be like, totally down to doing that," said Upton.
While neither Upton, standing at 5 feet 10 inches, nor the other three presenters, actors Leslie Mann, Cameron Diaz and Nicki Minaj, poked fun at Hutcherson's height, the Kentucky native immediately pointed out his noticeably smaller size after standing next to the female foursome on-stage. "They're all so tall. Me and Kate would never work," said Hutcherson, who jokingly looked up, before adding, "That would be hard."
Hutcherson, who won for his portrayal of fictional character Peeta Mellark in the "Hunger Games" film franchise's second installment, continued his speech by calling the win a dream come true. "This is so cool. I know everybody said it, but I grew up watching these awards. I would be like everybody weekend, 'Is it this weekend? This weekend?' and now I'm here, and it's like the coolest thing in the world," he said.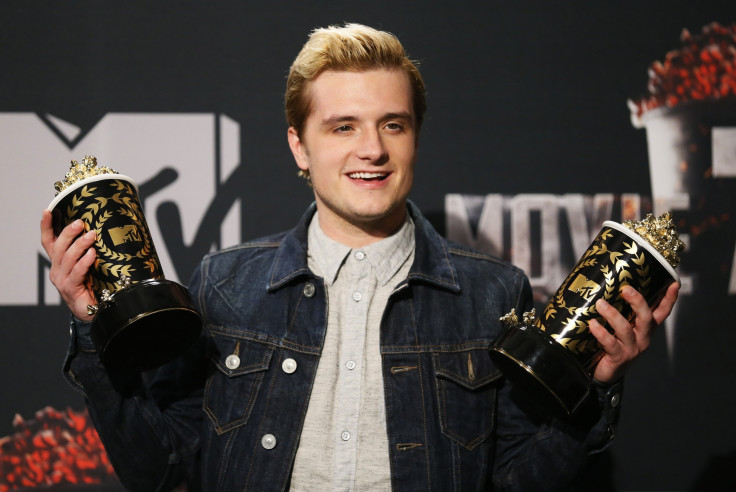 While Hutcherson's co-star Jennifer Lawrence wasn't in attendance at the ceremony, she did walk away with a win for Best Female Performance for "Hunger Games: Catching Fire."
"The Hunger Games: Catching Fire" also won the most coveted award of the night: Movie of the Year. The golden popcorn trophy, presented by "Transcendence" star Johnny Depp, was accepted by Hutcherson and his co-star, actor Sam Claflin. "We just want to say a huge, huge, thank you to all you guys, first of all. The fans, the tributes … We also want to say a huge thank you to the cast and crew," said Claflin. Hutcherson later paid homage to his late co-star, actor Philip Seymour Hoffman.
"I know that if Philip were here, he would really think this was really cool and to have him in our movies was one of the coolest things in the world," said Hutcherson. "He is one of the actors I have looked up to my entire life. We think about him everybody on set, so wherever he is, this definitely goes out to him as well."
© Copyright IBTimes 2023. All rights reserved.
FOLLOW MORE IBT NEWS ON THE BELOW CHANNELS