Jovian, Lemur Star Of Kratt Brothers' Wildlife TV Show 'Zoboomafoo,' Dead at 20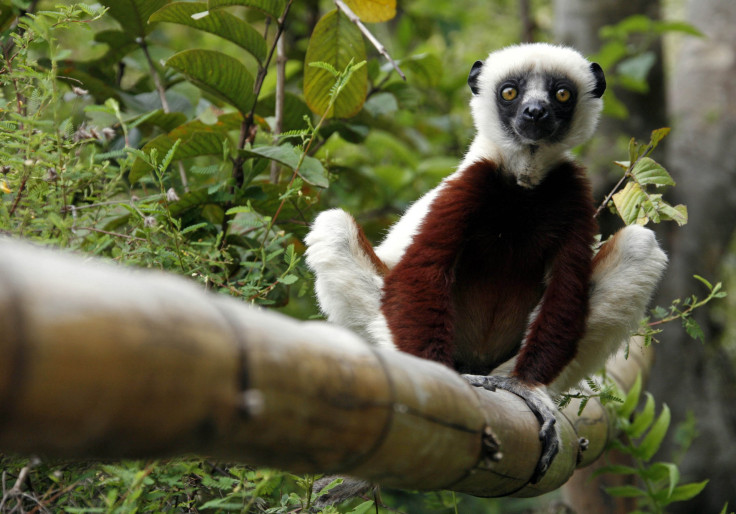 "Zoboomafoo" fans across North America mourned Wednesday as news spread that the star animal actor in the children's nature show died this week. Jovian, the Coquerel's sifaka lemur who played Zoboo on the PBS series, suffered from kidney failure. He was 20.
Workers at Jovian's home, Duke University's Lemur Center, described him as good-looking and gentle. "He was a graceful, long-limbed co-star with cream and russet fur and bright, intelligent yellow eyes, and he taught millions of children what a lemur is," the center wrote in a news release.
"Zoboomafoo" aired 65 episodes from January 1999 to April 2001, but remained syndicated on networks, especially those in Canada. Jovian appeared mostly at the beginning of the segments, when the Kratt brothers, Chris and Martin, would feed him before he transformed into a talking lemur puppet.
"He was great to work with," Martin Kratt said. "He'd jump in through the window, and we'd feed him mangoes or garbanzo beans. Sometimes he'd grab our noses with those soft sifaka hands."
Martin Kratt had volunteered at the Duke Lemur Center as a student, so when he and his brother created a TV show and wanted a lemur co-host, they knew where to go. In 1997, the brothers filmed Jovian and his parents, Nigel and Flavia, jumping around in a stage set modeled like an outdoor cage, according to the release.
"Watching our young interns get excited over being in the presence of the real Zoboomafoo this summer made me realize just how lucky those of us at the Lemur Center were who had the opportunity to get to know the real Jovian in his prime," said the center's registrar and photographer, David Haring. "He was a playful, gentle, intelligent animal and perhaps one of the best sifaka sires ever."
Sifakas typically live to be about 18, according to the Bronx Zoo, but Jovian began to get sick last winter. He lost a lot of weight in June. To make sure he had time to eat undisturbed, his keepers would isolate him in his cage for at least 30 minutes. But Jovian always wanted to get out and play with his family.
Jovian had two partners and 12 offspring, including Conrad, Ferdinand, Gertrude, Matilda, Gisela, Charlie and Wilhelmina. He had four grandbabies and two more grandbabies on the way when he died Monday, according to the press release.
Jovian's legacy could live on in his family: Jovian mated with a female lemur, Pia, just a month ago on Oct. 13. The center did not yet know if Pia was pregnant, "but everyone is hopeful that Jovian will have successfully produced one more infant -- to be born in late winter 2015," according to the statement.
© Copyright IBTimes 2023. All rights reserved.