JPMorgan Chase Shares Rally After CEO Jamie Dimon Buys $26.6M Of Bank's Stock; Bank Shares Recover Some Of Their Losses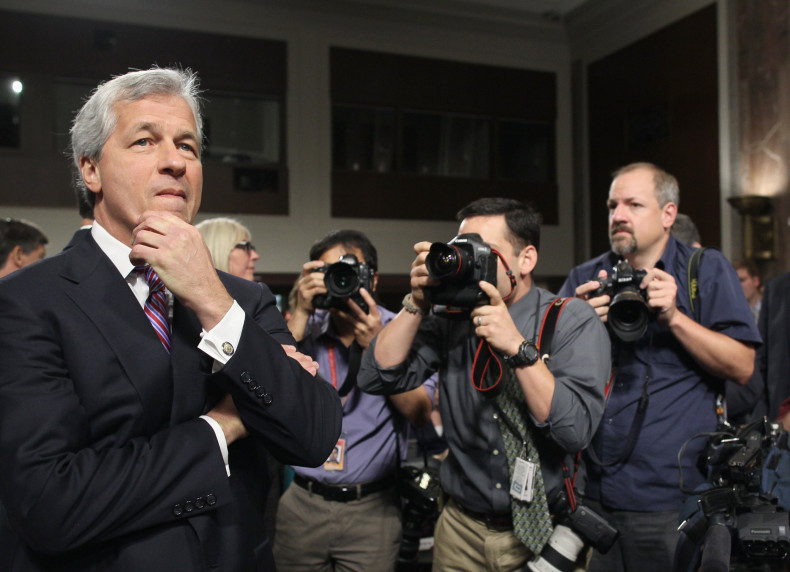 JPMorgan Chase led a rally Friday in U.S. financial stocks after Jamie Dimon, its billionaire CEO and chairman, scooped up a half-million shares of America's largest bank.
In one of the largest-ever equity purchases of a company by its leader, Dimon paid $26.6 million for the shares amid gloomy sentiment that has hammered bank stocks this year. Investors have become more anxious about the financial sectors in the U.S. and Europe and as they watch oil prices waylay energy companies, many of which are carrying significant debt loads, and worry that an economic slowdown coupled with rising U.S. interest rates will hurt bank profits this year.
Dimon's purchase brings his ownership stake to 7.79 million shares worth $413 million at Thursday's closing price.
While it's common for bank executives to buy shares of their own companies, the size of Dimon's acquisition — equivalent to almost all of his $27 million salary last year — suggests he's not only trying to boost confidence in the health of the economy but also could wind up with a hefty return.
"Jamie Dimon stepped up to the plate," Mike Mayo, an analyst with CLSA, told the Wall Street Journal. "It's a big number."
JPMorgan Chase & Co. (NYSE:JPM) stock was up 7.6 percent to $57.10 by midday Friday, the first opportunity investors had to buy the bank's shares after the New York Times first reported the news late in the day Thursday, citing an anonymous source close to the transaction.
It's difficult to tell how much of the rally in financial stocks on Friday is directly related to Dimon's bid of confidence, but his move certainly spurred others to buy bank shares on the dips. U.S. bank stocks across the board were up, including Wells Fargo & Co. (NYSE:WFC), Morgan Stanley (NYSE:MS) and Citigroup Inc. (NYSE:C).
Financial stocks were still slightly down by midday Friday, weighted down by Boston-based LPL Financial Holdings Inc. (NASDAQ:LPLA), which reported a dismal fourth quarter before markets opened, citing a major decline in brokerage sales and advisory fees.
Dimon is one of America's most well-known bankers. In 2012, he faced intense scrutiny and a raft of shareholder lawsuits after his bank lost $2 billion in risky derivatives transactions. JPMorgan trader Bruno Iksil, nicknamed the London Whale, had accumulated immense positions in credit default swaps — financial products that act like insurance policies against loan defaults.
An internal investigation found the bank had engaged in risky investment behavior and had lax oversight of traders' behavior, but Dimon emerged from the controversy unscathed and with the support of most shareholders.
© Copyright IBTimes 2022. All rights reserved.