'Jujutsu Kaisen' Chapter 183 Is Not Releasing This Week: New Release Date [Spoilers]
KEY POINTS
"Jujutsu Kaisen" Chapter 183 will release on May 8
The chapter will release on Manga Plus and Viz
The manga is based on the original story by Gege Akutami
Kinji Hakari's unpredictable domain unravels before Charles Bernard in "Jujutsu Kaisen" Chapter 183. Fans will have to wait for this epic battle as the new chapter is not coming out Sunday.
"Jujutsu Kaisen" Chapter 183 is delayed and is now scheduled to release on May 8. In the new chapter, Hakari will unleash his Idle Death Gamble Domain Expansion.
And since Charles can see into the future, his brain has figured Hakari's Domain and Cursed Technique rules even before they are out.
Can Hakari still fool an opponent who can predict the future?
In "Jujutsu Kaisen" Chapter 182, Charles revealed his G War Staff, which was an extension of his manga pen.
An aspiring mangaka Charles was sucked into the Culling Game and was forced to fight against Hakari in the Tokyo No. 2 Colony.
Charles revealed he lost his motivation as a reader and as a creator after jujutsu overpowered his consciousness. When Charles attacked Hakari with his G War Staff, Hakari asked if he was okay using a pen tip for violence. Charles justified his actions and shot a manga panel into Hakari's chest.
Meanwhile, Charles was shocked to see how fast his opponent moved. He noted if he lacked the ability to see into the future, Hakari would have killed him in no time.
Hakari was confused about the panel on his chest. Charles explained that it was a manga panel that allowed him to see one second in advance. And as the fight continued and his G War Staff was filled with more ink, he was able to see much further into the future.
"For some strange reason, Yuji Itadori, despite his insane athleticism would rather just hang out with the Occult Club. However, he soon finds out that the occult is as real as it gets when his fellow club members are attacked! Meanwhile, the mysterious Megumi Fushiguro is tracking down a special-grade cursed object, and his search leads him to Itadori...," read the official synopsis of "Jujutsu Kaisen" series, as per Manga Plus.
"Jujutsu Kaisen" chapters release weekly. Fans can read the chapters online on Manga Plus and Viz. The manga is created by Gege Akutami.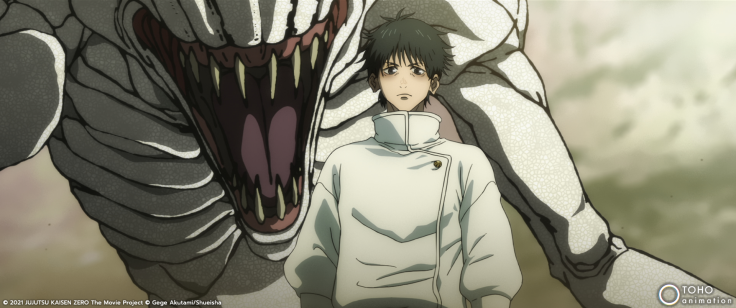 © Copyright IBTimes 2023. All rights reserved.