'Jujutsu Kaisen' Chapter 184 Spoilers, Release Date: Charles Bernard's Fate
KEY POINTS
"Jujutsu Kaisen" Chapter 184 is coming out Sunday
The chapter will be available on Manga Plus and Viz's Shonen Jump
The manga is based on the story by Gege Akutami
Kinji Hakari reveals he uses skill to get his hands on luck. Inside Hakari's Domain Expansion, he has managed to execute the final blow on Charles Bernard and hit the jackpot.
"Jujutsu Kaisen" Chapter 184 is expected to showcase if Bernard has any counterattack to nullify Hakari's Cursed Technique.
It is likely that Bernard has been defeated by Hakari in the Idle Death Gamble Domain Expansion.
The last chapter introduced Hakari's Domain Expansion, which was based on a fictional game called Idle Death Game: CR Private Pure Love Train. The game consisted of seven characters namely Aya Saito, Sayuri Amanogawa, Yume Asagiri, Hira Kato, Suzuka Shimizu, Sayaka Yamaguchi, and Yuki Yamaguchi.
The gambling domain was based on a real pachinko machine and the player can hit the jackpot by getting three of the symbols. And hitting the jackpot would mean Hakari will get a bonus.
Hakari explained the rules of the game and bombarded Bernard with loads of information. Bernard was annoyed and wanted to fight Hakari.
Soon the first stage of the game began and Hakari's attacks were nothing but him trying his luck to get three symbols.
The first stage was a low chance transit card riichi and Bernard knew Hakari's chance of winning was low. The scenario was if Yuki passes through the gate and arrives at his workplace on time, Hakari hits the jackpot.
When Hakari tried to attack Yuki, he couldn't because he had no control over the game. All he could do was stop Hakari from playing the game.
"For some strange reason, Yuji Itadori, despite his insane athleticism would rather just hang out with the Occult Club. However, he soon finds out that the occult is as real as it gets when his fellow club members are attacked! Meanwhile, the mysterious Megumi Fushiguro is tracking down a special-grade cursed object, and his search leads him to Itadori...," read the official synopsis of the series, as per Manga Plus.
"Jujutsu Kaisen" Chapter 184 is releasing Sunday. Fans can read the chapter online on Viz's Shonen Jump and Manga Plus.
"Jujutsu Kaisen" manga is based on the original story by Gege Akutami.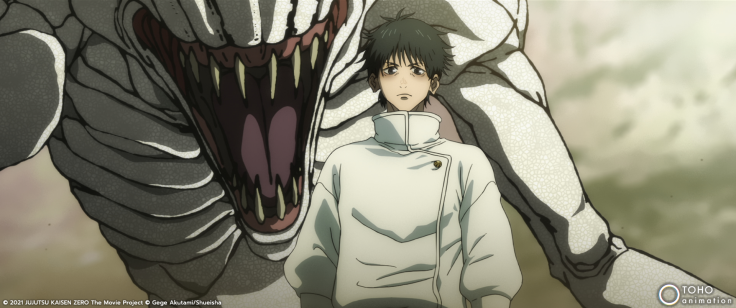 © Copyright IBTimes 2022. All rights reserved.
FOLLOW MORE IBT NEWS ON THE BELOW CHANNELS