Julia Orayen, Former Playboy Model, Steals Mexico?s Presidential Debate [PHOTOS]
Mexico's first presidential debate gave viewers a lot more than they bargained for ... skin. Many weren't paying attention to the highly anticipated political debate, but rather the cleavage of curvaceous model Julia Orayen.
Orayen, donning a tight gown with a very large keyhole cut out of the chest, was only on the stage for about 30 seconds Sunday, but stole the whole show, according to the media and Twitter.
Julia Orayen was Playboy's playmate in the September 2008 edition of the magazine. While her Playboy photos are bound to be more revealing than the dress she wore, she still caught many eyes.
The model was at the presidential debate to determine the order the candidates would speak by carrying an urn with bits of paper, reported the New York Daily News. According to the Huffington Post, Orayen was picked for the role due to her height to match the short candidates.
It is impossible not to concentrate your attention on a woman so spectacular, Gabriel Quadri, candidate of the New Alliance party, told MVS radio.
Others on Twitter, like former Mexican Foreign Minister Jorge Castaneda, echoed Quadri's statement. The best was the girl in white with the cleavage at the beginning, tweeted Castaneda.
But not all welcomed Orayen's 30 seconds of fame at the debate. The dress everyone is talking about has been branded an outrageous stereotype by debate commission member Lorenzo Cordova.
Candidate Josefina Vazquez Mota said Orayen's dress was not in keeping with the seriousness of the debate.
While many watching from home may not have been offended, the commission released a statement of apology. We are sorry about the production error associated with the clothing of one of the assistants during the first presidential debate and want to apologize to the citizens and the candidates for the presidency, the release states.
To check out some more NSFW photos of the star of the Mexican presidential debate, click here.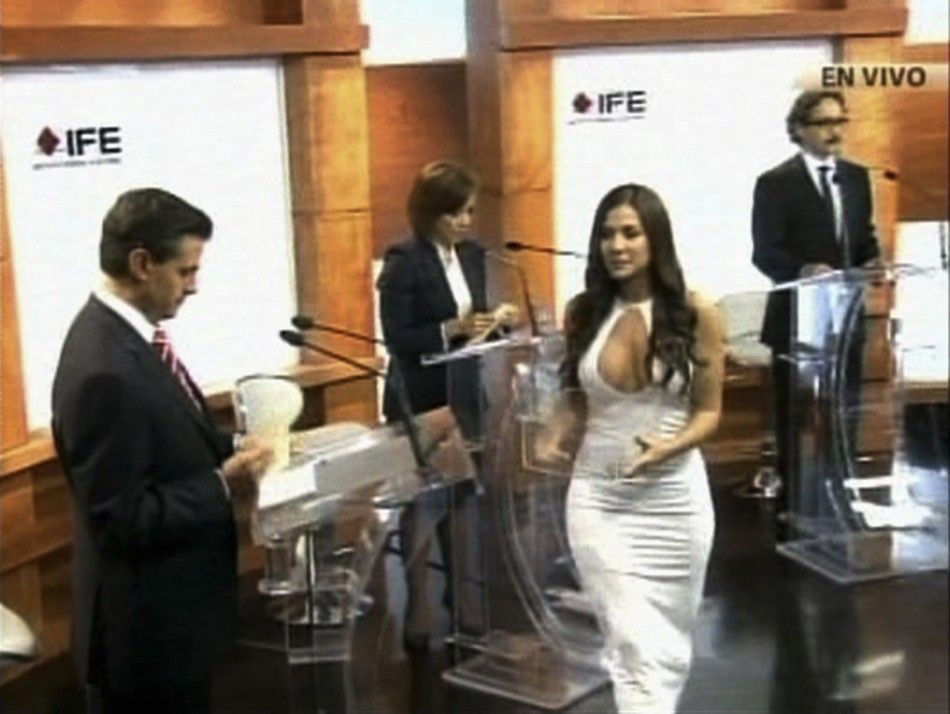 © Copyright IBTimes 2023. All rights reserved.