June 6 SAT Mistake Complaints Continue Amid Debate Over Standardized Testing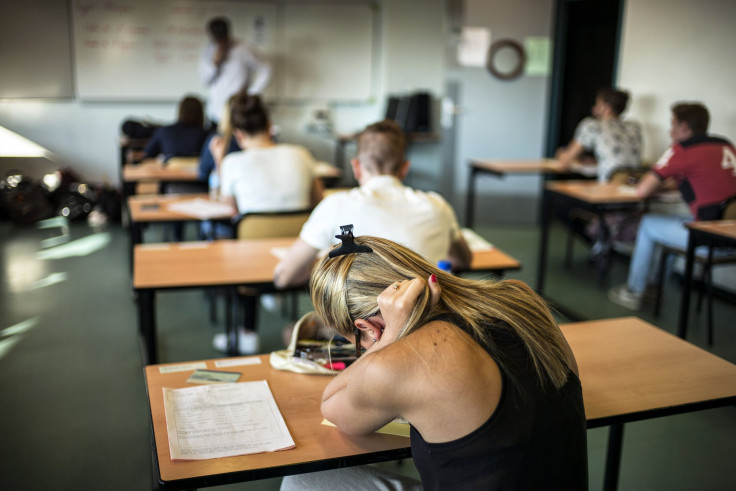 Courtney Noll knew something was up halfway through Section 8. Noll, 17, had studied hard for the SAT exam administered on June 6. She knew Sections 8 and 9 were supposed to be 20 minutes long. But the instructions in her test booklet allotted 25 minutes. "I was like, 'Oh, no, something is definitely going to happen," said Noll, a junior at Spackenkill High School in Poughkeepsie, New York. "And it turned into this big catastrophe."
Across the country that Saturday morning, students raised their hands and asked exactly how long they had to complete the sections. Test administrators had the right time in their manuals and when confronted with the issue they made their own decisions. Some students, like Noll, were cut off at 20 minutes, as they should have been. Others got extra time. All found themselves flustered by the mix-up.
The mistake affected 487,000 students who took the SAT in the United States on June 6, and many of them were not satisfied with the College Board's insistence afterward that the scores were still valid but that students could take a free October retest. Results were due to be released Thursday, but test-takers weren't sure they'd be accurate.
They weren't alone in their concerns. Standardized tests like the SAT are increasingly falling out of favor, with a growing number of colleges and universities changing their policies and nixing exam requirements, while parents and students have raised questions about the merits of high-stakes tests. In recent years, the ACT has overtaken the SAT as the nation's most popular college entrance exam among students, and the latest testing scandal could further erode the public's confidence in its use as a valid measure of academic readiness, educators said.
"Everyone who took the June 6 SAT, they are all confused," said Sarah Chowdhury, also a 17-year-old junior at Spackenhill High. "They're not even sure they should trust the College Board anymore."
The June 6 SAT scandal feeds into the growing distrust of standardized exams, said Bob Schaeffer, the public education director of FairTest: the National Center for Fair and Open Testing based in Jamaica Plain, Massachusetts. Members of Congress were deliberating this summer over the merits of annual exams in K-12 schools, a discussion that came on the heels of the April conviction of 11 teachers in Atlanta who had helped their students cheat on state tests. Last month, a federal grand jury indicted 15 Chinese nationals for organizing a scheme where impostors with fake passports took exams like the SAT and GRE.
"All of those give further impetus to schools saying, 'Who needs the test scores?'" Schaeffer said. "They're very imprecise, anyway, and the research shows you can make just as good or better decisions without them."
For Chowdhury, the test was a chance to get into a seven-year medical program, like the one at Stony Brook University in New York. She took an SAT prep course focused on the June 6 administration, cramming with flash cards in the weeks before the exam.
After the error, she said she began worrying schools wouldn't look at her score the same as others' because it was based on a faulty exam. The College Board and Educational Testing Service announced they would throw out the two affected sections, calculating students' results from 80 percent of the questions and answers. They insist the scores will be reliable because the SAT is designed to collect enough information for an accurate score even if parts of an exam are jeopardized, according to a news release.
Nevertheless, Chowdhury said she doesn't feel confident in her results from June 6 because she rushed through the final sections. "These SAT scores will not be representative of my true capability," she said.
States with Highest College Entrance Exams | StartClass
That's why Chowdhury and Noll started a change.org petition calling for a retest. It quickly gained steam, collecting more than 1,000 signatures. Soon after the petition went viral, the College Board announced it would waive its roughly $55 administration fee for students who wanted to retest in October.
Four months is too long to wait for Noll, who's hoping to attend Stanford University in California like her sister. "I told my mom we're going to need to sign up for the ACT test," she said. "I feel like I don't really have any other choice."
The ACT, which is often seen as the SAT's more straightforward counterpart, has increased in popularity in recent years. In 2012, for the first time ever, the ACT saw more test-takers. It had 1,666,017 students to the SAT's 1,664,479. This trend was expected to continue, at least in the short term, because the SAT was due to debut a redesign in March.
But at some schools, students don't have to take either. More than 850 institutions across the U.S. have adopted some sort of test-optional policy where students are not universally required to submit SAT or ACT scores for admission. Among them are Texas A&M University in College Station, Texas; Bowdoin College, in Brunswick, Maine; Bryn Mawr College, in Bryn Mawr, Pennsylvania; Miami-Dade College in Miami, Florida; and Wesleyan University, in Middletown, Connecticut.
Also on the list is DePaul University in Chicago, which announced its test-optional policy in February 2011. Jon Boeckenstedt, the school's associate vice president for enrollment management and marketing, said the admissions office realized that students' high school grades and curriculum told DePaul more about them than any standardized test score did.
DePaul was using the scores to predict how well potential students would do there. But as it turns out, the difference in the college GPAs of the admitted students who submitted scores and the ones who didn't was about .07, Boeckenstedt said.
"We've been led to believe that the tests are a predictor of something when they're really not a predictor of anything," he said.
Martha Allman, the dean of admissions at Wake Forest University in Winston-Salem, North Carolina, said reviewing applications became a truly holistic process after instituting a test-optional policy in 2008. Students can answer more written questions instead of sending in college entrance exam scores, which gives staffers a more in-depth understanding of each applicant.
Less reliance on test scores also slightly reduces the anxiety of applying to college, Allman said. "What you do on four hours of a Saturday morning shouldn't outdo what you've done in four years of high school," she added.
But those four hours will probably remain important for most schools in the U.S., said Jeff Fuller, president of the National Association for College Admission Counseling and director of student recruitment at the University of Houston. Many schools still see value in collecting applicants' scores.
He said the June 6 SAT mistake won't cause an instant, widespread switch away from college entrance exams, though it will pressure the College Board and other test administrators to make sure nothing like it ever happens again. It's also sure to be mentioned in future discussions about the purpose in standardized testing.
"I don't think people are going to forget about it, that's for sure," Fuller said.
© Copyright IBTimes 2022. All rights reserved.
FOLLOW MORE IBT NEWS ON THE BELOW CHANNELS