Justin Theroux Shading Brad Pitt? Actor Says 'Badass' Wife Jennifer Aniston 'Lived Through A Lot Of Bulls--t'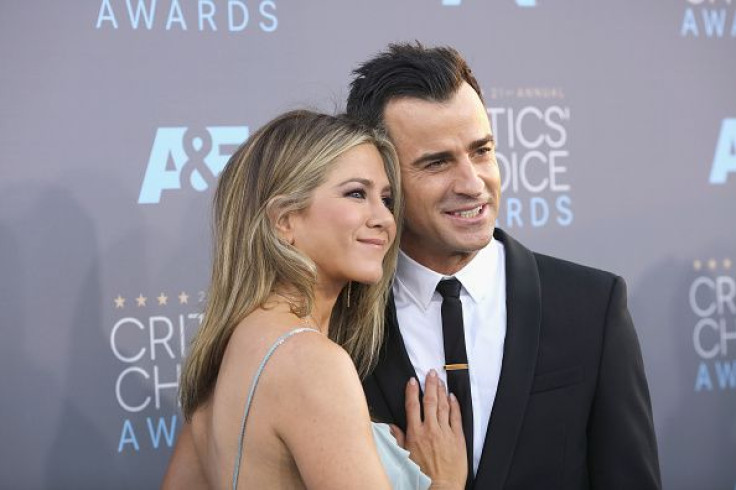 Justin Theroux is a lucky man for putting a ring on wife Jennifer Aniston, and he knows it.
"The Leftovers" star, 45, recently opened up about Aniston during an interview with The Sunday Times, where he sang his 47-year-old wife's praises yet again. Theroux expressed his admiration for Aniston's strength and resolve amid the tabloid rumors and media firestorm she's had to deal with over the years.
Just recently, Aniston's name was even dragged into the drama surrounding her ex-husband Brad Pitt's divorce with Angelina Jolie. When Aniston and Pitt divorced in 2005 after five years of marriage, the "Friends" alum's love life has been consistently scrutinized by the media. This only increased when Pitt got together with "Mr. And Mrs. Smith" co-star Jolie soon after their divorce. However, Aniston's former marriage to Pitt is only part of the "bulls--t" the actress has been plagued with, according to Theroux.
"She has lived through a lot of bulls--t. Many people would have crumbled under some of the stresses that have been put on her. I'm very proud of her for that, for the way she handles herself," Theroux told the publication of his wife.
The "Girl On The Train" star added that Aniston is a "proper badass" for having stayed strong over the years despite the scrutiny. "Truly, in that sense, she's amazing," he gushed.
Theroux went on to say that Aniston, whom he tied the knot with in August 2015, "understands that she is someone who has attracted, for whatever reason, a level of attention where she's become this sort of fable." He added that "it's an honor to stand behind her."
The actor also revealed that though he used to pay attention to what the media says about their relationship, he realized later on that it was akin to "eating poison."
"There are definitely times when I don't like walking past the newsstand in the U.S.," he dished, adding that strangers even come up to him to congratulate him about something the tabloids reported that isn't even true, like the birth of his child. "It's really insane."
Meanwhile, Theroux previously shared his thoughts about Pitt's ongoing divorce with Jolie. During an interview with the Business Insider, he shared that he sympathizes with the ex-couple's six children. "As a child of divorce, all I can say is that's terrible news for those children, and that's all you can really say. It's boring to sort of comment on anything else. People are having a bad time. That's horrible," he said.
He also talked about the numerous rumors surrounding the pair's split, saying, "There's an endless appetite for trash, apparently — though everyone would say that they don't have that appetite. But I think a lot of people do because people buy it."
© Copyright IBTimes 2022. All rights reserved.
FOLLOW MORE IBT NEWS ON THE BELOW CHANNELS