K-Pop Singer Minho Steals Melania Trump's Thunder In South Korea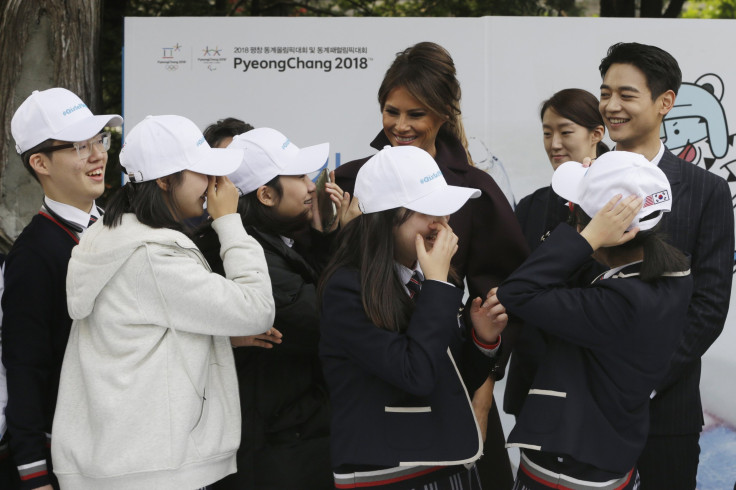 South Korean K-Pop singer Minho received quite a different reaction Tuesday in comparison to first lady Melania Trump while both attended the campaign "Girls Play 2," aimed at increasing girls' participation in sports.
As middle school-aged students gathered around the first lady, the energy shifted after SHINee band member Minho was noticed by the young crowd. In a viral video, a young South Korean girl appeared unaware of the K-Pop singer standing behind her and mistook her peers' screaming and clapping as a reaction to the first lady.
Upon realizing Minho was standing behind her, the unidentified girl collapsed in excitement — a starkly different reaction than that of the one to the first lady. Trump reacted to the girl's excitement with a light-hearted smile and motioned to Minho.
The South Korean boy band consists of five members including Minho, Onew, Jonghyun, Key and Taemin. The group formed in 2008 and won the "Popularity Award" at the 2017 Seoul Music Awards in January.
In a speech made at the Tuesday event, Trump advocated for increased access to sports facilities and reminded everyone that "girls play too."
While the first lady was in Seoul, President Donald Trump met with South Korean President Moon Jae-in and urged for action to be taken against North Korea. Trump addressed North Korean dictator Kim Jong-un directly during his speech.
"The weapons you are acquiring are not making you safer," Trump said Tuesday. "They are putting your regime in grave danger. Every step you take down this dark path increases the peril you will face."
The president's trip to South Korea was the second stop on his 13-day Asia tour.
© Copyright IBTimes 2023. All rights reserved.
FOLLOW MORE IBT NEWS ON THE BELOW CHANNELS