Kanye Used Kim Kardashian, Chris Paul Affair To Deflect Amid Swastika, Hitler Scandal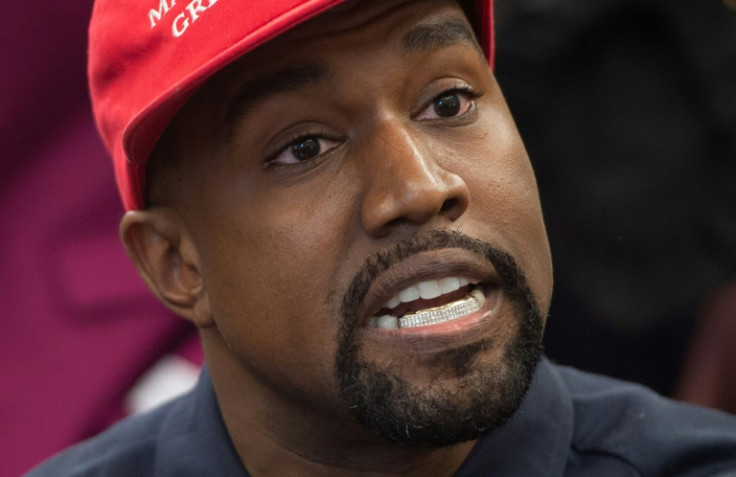 Rapper Kanye West's decision to accuse his ex-wife Kim Kardashian of having an affair with NBA player Chris Paul is reportedly a tactic to distract the press amid his latest controversial comments about Adolf Hitler.
On Thursday, the rapper, also known as Kanye or Ye, appeared on Alex Jones' "Infowars" program, where he praised Nazis and claimed he sees the good in Hitler.
By the end of the night, he posted a tweet accusing Kardashian of cheating on him with Paul. Kanye shared a photo of Paul with the caption, "Let's break one last window before we get outa here. I caught this guy with Kim. Good night."
Despite his accusations, a source told TMZ on Friday that Kanye is trying to use Kardashian to distract others from his controversial comments.
"This is not true, and sadly, it's an ongoing pattern with Kanye — attacking Kim to redirect everyone's attention after a day of crazy antics where he has said every hateful and offensive thing he can possibly dream of," the insider told the outlet.
The source noted that Kanye has a history of telling lies about his ex-wife. "He has a history of falsely accusing her of also having affairs with Meek Mill, Drake, and countless others," the insider explained.
"Kanye has for years deflected his own awful behavior, infidelities, and obsession with porn and sex addiction to abuse and slut shame Kim. She wants to be left alone so she can focus on the well-being of their children."
Kanye went on to tweet a photo of a swastika inside the Star of David on Thursday and was later suspended from Twitter for violating the social media ​​platform's rules on inciting violence.
Kanye has been facing a wave of backlash amid his controversial behavior and comments that many have deemed antisemitic. On Friday, President Joe Biden appeared to indirectly address Kanye's comments on Hilter.
"I just want to make a few things clear: The Holocaust happened. Hitler was a demonic figure," Biden tweeted.
"And instead of giving it a platform, our political leaders should be calling out and rejecting antisemitism wherever it hides. Silence is complicity."
Kanye's controversial comments over the last few months have caused him to lose several partnerships, including Adidas, which sold his Yeezy-branded products.
© Copyright IBTimes 2023. All rights reserved.
FOLLOW MORE IBT NEWS ON THE BELOW CHANNELS