Kanye West Played Porn During Meetings, Adidas Staffers Claim
Adidas company had cut ties with Kanye West last month due to his antisemitic comments. Now, the company's employees have opened up about the rapper's behavior during meetings which allegedly includes showing porn and an explicit photo of his former wife, Kim Kardashian.
"He showed me the video of Francesca Le, a buff porn star with a strap-on dildo fucking another girl in the ass," a staffer told Rolling Stone in an interview published Tuesday. "He's like, 'What do you think of it?' Not laughing at all."
An executive recalled how West used to attend meetings with his laptop, just to play porn. This executive claimed that they witnessed the rapper playing porn at least five different times.
"And he's like, 'I know it's uncomfortable, but I kind of need this in the background to keep me focused.' And you'd be like, 'Uhhhhh, oh-kay,'" the executive added.
Another senior employee claimed that after West was hired as vice president of the company, he received a heads up, "Hey, just so you know, there's gonna be this whole porn-reference thing," while another executive added, "It's gonna catch you off guard the first time. I think he does it to catch people off guard."
One of the staff members recalled an "awkward and uncomfortable" meeting with West.
"He had pulled up MILF porn and was like, 'See this feeling? This feeling that you get when you watch this? This is what I want people to feel when they put on our shoes.' So, it was like, 'Oh, my God, is this really happening?' He couldn't use any other way to describe this except by pulling up porn?"
An Adidas staffer also mentioned that the 45-year-old rapper created a "disturbingly" sexualized environment at the workplace, where he "bullies and intimidates to get what he wants."
A person, who walked into the room for a job interview, claimed that West was dancing to his own music and then showed an "intimate" photo of Kardashian on his phone. "My wife just sent me this," West reportedly told the interviewee at that time.
The interviewee added, "I didn't really react."
In response to Rolling Stone's story, an Adidas spokesperson shared a statement, noting that the company will "not discuss private conversations, details, or events that lead [sic] to our decision to terminate the Adidas Yeezy partnership and decline to comment on any related speculation."
West's brand named, Yeezy, and Adidas were fashion collaborators for over seven years. However, the collaboration came to an end last month when West made antisemitic remarks on social media.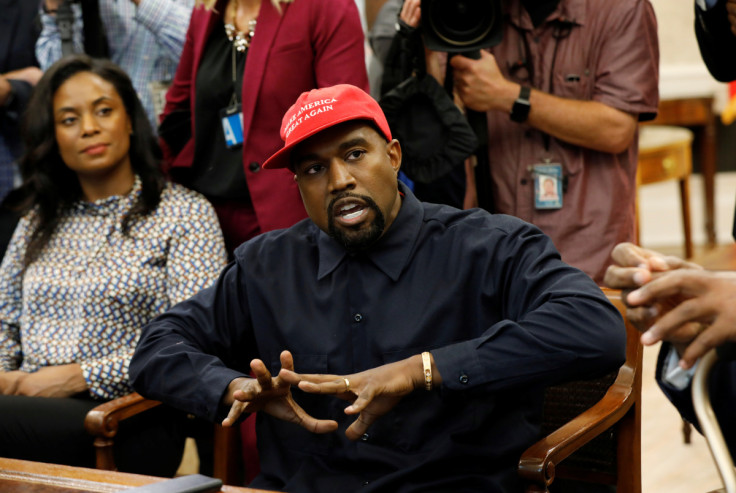 © Copyright IBTimes 2022. All rights reserved.
FOLLOW MORE IBT NEWS ON THE BELOW CHANNELS