'Karen' Halloween Mask Is 'Scariest Thing' For 2020, Where To Buy One
2020 has certainly been an unexpected year for everyone with what has seemed like an endless cycle of bad news and canceled traditions and events. However, those who still plan to celebrate some of the elements of Halloween that make the holiday so legendary will need to up their game for 2020—and certainly can with a mask being billed as the "scariest thing you can be."
The masks are being billed as the "Karen" Halloween mask, made of latex and rubber, and they are being sold at the Kamorascostumes Etsy shop for $180. On the site, they are listed as being in low stock, meaning those interested in purchasing will need to act quickly.
According to Florida station WFLA, they are made by Los Angeles based artist Jason Adcock. In his listing on Etsy, he describes the masks as being full headed latex masks with hair, which will be handmade—sculpted, molded, cast and painted. They are all expected to have blond hair and could have differing looks from the paint, but will also all have vision slits and vents in the eyes, mouth, nose and ear areas to allow those who wear them to breathe and see.
The masks show the face of a woman who appears to be in the middle of an angered rant—a "Karen," which has grown in popularity on social media as a term to describe a woman who acts entitled or rude to others and utilizes negative behavior and tactics to get her way. The timeline on the finished pieces appears to be about a month between the time the order is placed and when it can be delivered.
Other masks in the shop include a La Llorona mask from the 2019 film "The Curse of La Llorona," which sells for $120, while a half mask of a pumpkin is also available for $50.00
"Karens" have made the news in several different ways throughout 2020, a year that has been most notably marked by a contentious presidential election, the coronavirus pandemic and tensions from police shootings against people of color and the protests those incidents have led to.
Racial tensions with women who were tagged as "Karens" included California's Lisa Alexander, who called the cops on a Filipino neighbor who wrote a Black Lives Matter slogan on his own property, as well as Amy Cooper, a New York woman who called the cops on a Black man in Central Park who confronted her about keeping her dog off a leash in an area of the park where it was required.
A transgender woman named Danielle Muscato also made headlines in August after she took to Twitter to call out a manager at a Kroger supermarket for not enforcing a mask-wearing policy with another customer.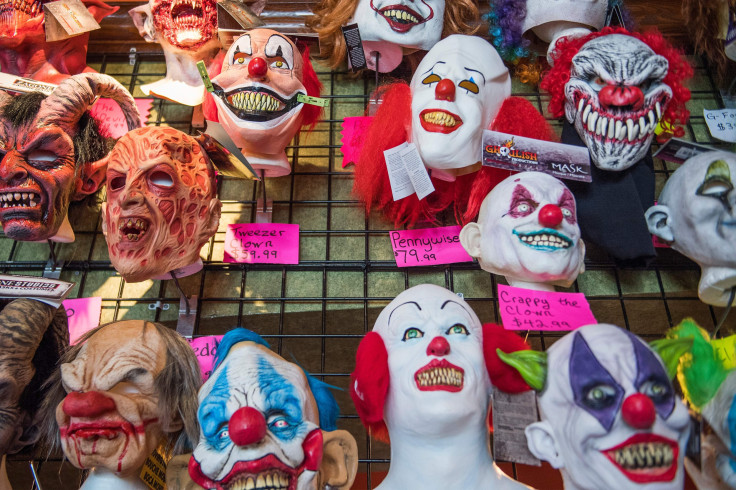 © Copyright IBTimes 2023. All rights reserved.