Kate Middleton Baby Bump: Middleton Sports Growing Belly At Willows Primary School, Speaks About Addiction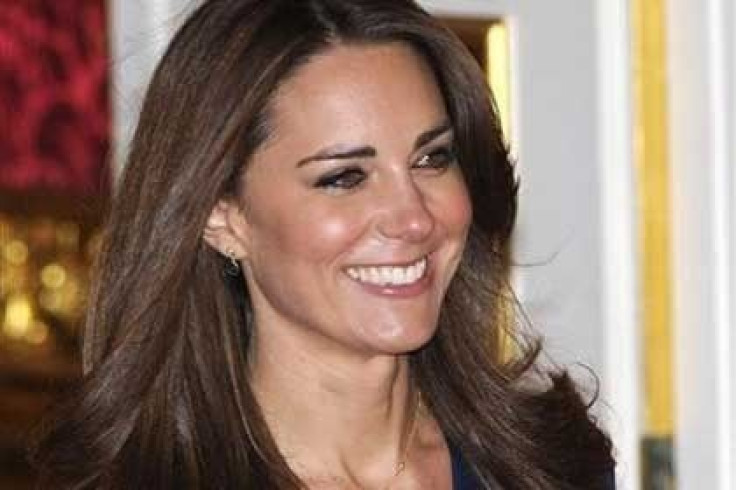 Kate Middleton flaunted a noticeably larger baby bump during a visit to the Willows Primary School in Manchester, England, [which can be viewed here]. The Duchess of Cambridge, who is reportedly in her six month of pregnancy, appeared at the primary school to launch a new counseling program called M-Pact. Middleton sported a floral, black and red "Sophia" dress by Erdem with navy blue heels for the occasion.
According to Us Weekly, Middleton took a tour of school's campus and sat in on a meeting with counselors from the addiction charities that contributed to the program, including Action on Addiction, Place2Be, Comic Relief and the Royal Foundation -- a charity she runs with Prince William and Prince Harry.
However, Middleton's visit was somewhat bittersweet; shortly after her appearance was announced, vandals set the school's brand-new playground on fire. Ann Whitehead, a head teacher at Willows, said that the school was "not going to let them beat us" and added that the community response had been a blessing.
"The response has been so overwhelming and restored my faith," Whitehead told the Mirror. "People just turned up out of nowhere to help clear the place up."
During her speech the Duchess of Cambridge, who was reportedly greeted by hundreds of children and given gifts, spoke of the need to lend support to children of addicts in order to break the cycle of addiction.
"Addiction is a hugely complex and destructive disease, and its impact can be simply devastating," Middleton told onlookers in a speech. "All too often, lives and families can be shattered by it. Through my Patronage of Action on Addiction, I feel fortunate to have met a wide range of inspirational people who have overcome addiction. But those who are addicted are not the only victims."
"I have been struck by the profound and deeply damaging impact it has on the children of affected parents. Research has shown that children of those who are addicted are seven times more likely to have addiction problems themselves,"she continued. "Last year I asked the Royal Foundation, which I share with [Princes] William and Harry, to see what could be done to help these children. ... Today it gives me an enormous feeling of pride and excitement to launch a program that will bring this research to life." She ended her speech by saying, "The cycle of addiction needs to be broken -- my hope is that through this specialist and targeted care, these children will have the best possible start in life. The one that they deserve."
Middleton, who is expected to give birth in July, has said that she plans to continue honoring her royal duties until her eighth month of pregnancy. Her next scheduled trip is a visit to the National Portrait Gallery on Wednesday.
© Copyright IBTimes 2023. All rights reserved.