Kate Middleton To Extend Olive Branch To Meghan Markle To Help Prince William, Prince Harry Reunite: Report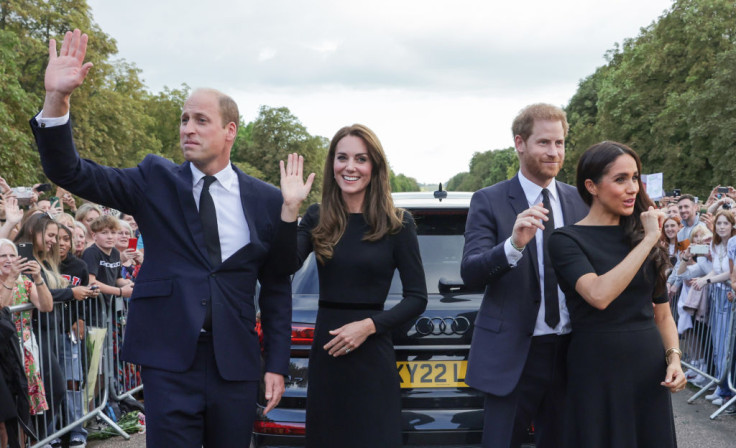 KEY POINTS
Kate Middleton could extend an olive branch to Meghan Markle to reunite Prince William and Prince Harry
The Duchess of Sussex is reportedly willing to put in the effort if there is no conflict in their schedule
Middleton was reportedly cold and distant toward Markle during their joint walkabout in Windsor last month
Kate Middleton has planned to reconcile with Meghan Markle to help their husbands, Prince William and Prince Harry, reunite.
The Princess of Wales was noticeably cold toward the Duchess of Sussex during their joint walkabout at Windsor Castle after Queen Elizabeth's death, according to body language experts. However, Middleton is reportedly planning to reconcile with Markle to help her husband and brother-in-law.
"Once Kate and William's Boston plans are set in stone, she's planning to extend an olive branch to Meghan in a bid to reunite the brothers and heal the rift," an anonymous source told Us Weekly.
The tipster added that Middleton's attempt to end her feud with Markle, 41, was inspired by what late Queen Elizabeth and Princess Diana "would've wanted" for them.
"[Prince] Harry and Meghan are knee-deep with their hectic schedules, but Meghan is willing to put in the effort as long as dates don't clash," the source added.
Middleton, Prince William, Prince Harry and Markle were spotted for the first time after the Sussexes stepped back from their royal duties in their joint walkabout. Body language experts Judi James and Dr. Lillian Glass noticed how Middleton distanced herself from her sister-in-law, with the latter saying the Duchess of Cambridge didn't even look at Markle.
"While William was a bit more cordial, he was still serious around [Meghan] and didn't show his usual megawatt smile. Kate refused to even look at Meghan or in her direction," Glass told Page Six. "She was being genuine. It was not in her heart to smile at Meghan, so she didn't do it."
"Meghan, on the other hand, looked like a sad and desperate puppy as she tried to catch Kate's eye gaze repeatedly. But Kate was having none of it," the analyst added.
Many netizens also noticed Middleton's alleged "icy stare" at Markle. Katia Loisel, a connection specialist and body language and relationship expert, said that while Prince William seemed to be making an effort to include Markle, who appeared "ill at ease" during their reunion, Middleton was allegedly trying to "freeze out" Prince Harry's wife.
"Meghan's nonverbal communication suggests that she may have felt out of place and didn't quite know where to put herself, with Prince Harry gently standing behind her, touching her arms and leading her in a protective and reassuring show of support," Loisel explained to 7 News.
The conflict between the two royal women was rumored to be due to Prince Harry and Markle's interview with Oprah Winfrey in March 2021. The former "Suits" star refuted the rumors that she made Middleton cry and said, "The reverse happened."
She admitted that they had a misunderstanding over the bridemaids' dresses, and Middleton "made me cry, and it really hurt my feelings." Markle also said that the palace didn't defend her from the reports when every one of them knew the truth. Middleton never addressed the issue as she abides by the royals' "never complain, never explain" mantra.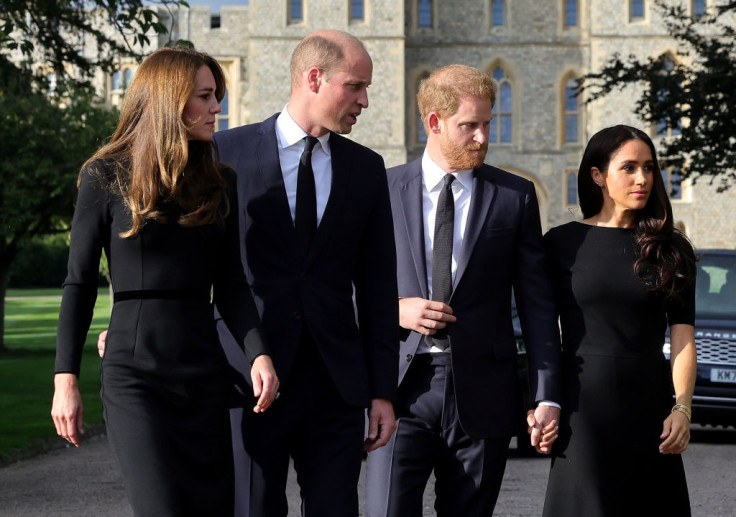 © Copyright IBTimes 2023. All rights reserved.