Kate Middleton Gets Chilly Looks From Princesses Eugenie, Beatrice At Buckingham Palace Garden Party, Report Says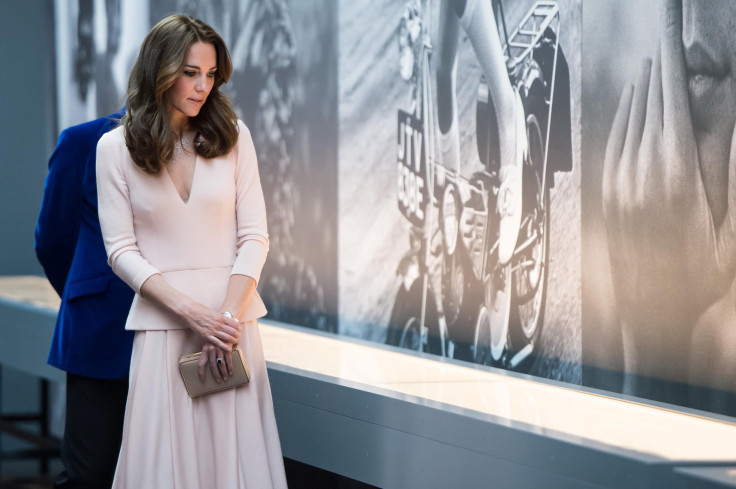 Kate Middleton got some chilly looks from Princesses Eugenie and Beatrice at the Buckingham Palace garden party this week, the Daily Mail reported Friday. According to the report, despite Princesses Eugenie and Beatrice's best efforts to look fashionable, the two could not match up to Middleton's stunning style.
During the garden party, the sisters were photographed walking close to the Duchess of Cambridge, who wore a fitted cream Alexander McQueen coat. According to Daily Mail, Princesses Eugenie and Beatrice were not seen walking together or gossiping with Middleton.
Princess Beatrice was dressed in a black and white Burberry dress while Princess Eugenie wore Alice + Olivia printed skirt.
The atmosphere between the three royal women looked decidedly cold, Daily Mail reported, adding that there have been tensions between the three since the early years of Middleton's relationship with Prince William.
"As William and Kate were ushered by a flurry of flunkeys down a long line of excited people, who stopped and stared or rushed forward trying to think of something to say, Beatrice and Eugenie were just left to go walkabout on their own — which they did very sweetly and well, spending a long time talking to all the people in wheelchairs. There was no sense of rush with them," one of the guests at the garden party told Daily Mail.
The same guest also added that William and Kate were the obvious "big ticket, box-office draw in neon lights," and the contrast between guests' interest in the Duke and Duchess of Cambridge, and the York Princesses was acute.
Another source told Daily Mail that there was a time when Prince William and Harry and Princesses Beatrice and Eugenie felt almost like equals.
"They were so close, despite the age gap [there are six years between William and Beatrice]. It's tragic, really," the source reportedly said.
© Copyright IBTimes 2023. All rights reserved.