Kate Middleton, Meghan Markle Photos Prove There's No 'Rift'; Duchesses 'Affectionate,' 'Good Friends'
KEY POINTS
Meghan Markle and Kate Middleton's photos prove that there's no rift between them
Meghan Markle and Kate Middleton look like they're good friends in some of their photos
Meghan Markle and Kate Middleton haven't spoken to each other in weeks
Kate Middleton and Meghan Markle have been rumored to be feuding throughout the past couple of months. But there is actually a slew of photos of the duchesses that prove that there's really no rift between them.
Royal experts analyzed Middleton and Markle's photos and said that the two female royals are actually good friends.
While at the Commonwealth Day service last year, Middleton and Markle were photographed kissing each other's cheeks. The duchesses also carefully placed their hands on each other's arms.
"I'm sure plenty of critics will look at this photo and see a one-armed hug that's insincere. But what I see is Kate being both gentle and affectionate with her heavily pregnant sister-in-law. I see a look on Meghan's face that says, 'I'm so happy to see you,'" Kristen Meinzer told Insider.
The royal expert also said that the photo suggests that Prince William and Prince Harry's wife may have exchanged a joke or a sweet word when they saw each other at the event.
Last year, Middleton and Markle attended Wimbledon together. One photo shows the two chatting with each other. Markle is looking intently into Middleton's eyes, while the future queen is leaning in towards her sister-in-law to better understand what she was saying.
"It almost looks as though Meghan is confiding in Kate and that Kate is doing her best to offer her full physical attention to whatever Meghan is saying," Meinzer said.
Another photo at Wimbledon shows Middleton and Markle smiling genuinely while talking to each other. Meinzer said that this particular photo is the kind of snap that good friends keep on their phones.
Royal expert Marlene Koenig also analyzed the snap and said that Middleton and Markle's smiles did not look fake even though they have very different lives and roles. As such, Koenig debunked the claims that Middleton and Markle hate each other.
Still, other royal experts are convinced that Middleton and Markle are not on good terms. In fact, a source told Us Weekly that the duchesses haven't spoken to each other after Prince Harry and Markle's bombshell exit.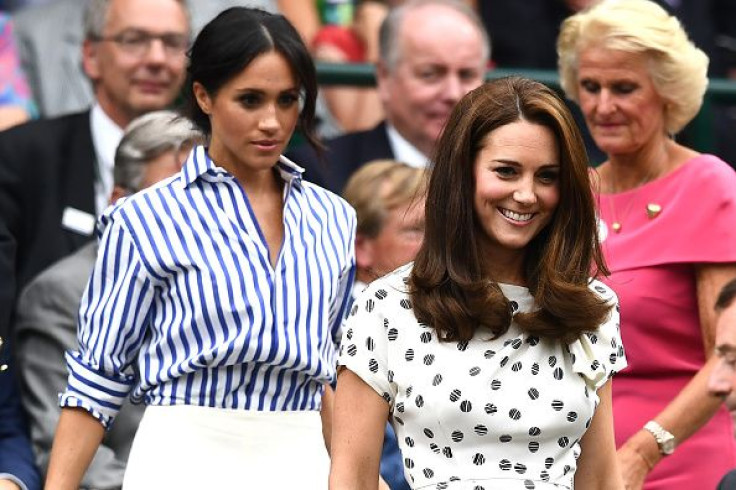 © Copyright IBTimes 2023. All rights reserved.