Kate Middleton, Prince William Are Not Allowed To Sign Autographs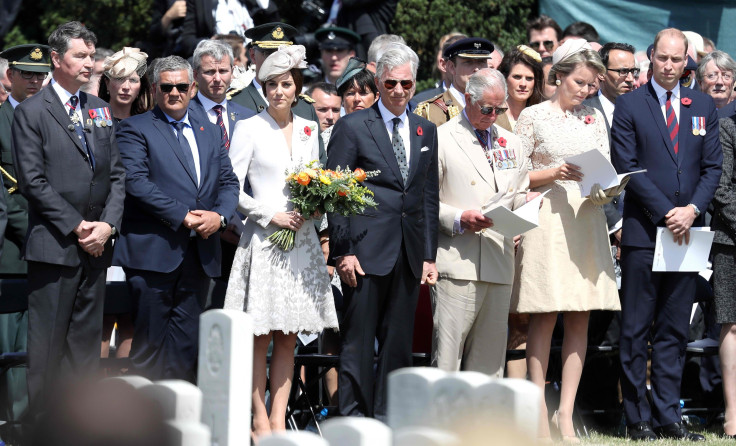 Kate Middleton and Prince William do not sign autographs.
The British royals are as popular as celebrities. When The Duchess of Cambridge, Prince William and Prince Harry arrive at a venue, they will typically wave to the crowd and pose for a group of photographers, Vanity Fair reported. However, unlike most artists, they do not sign autographs.
The royals have a strict protocol that forbids them from signing autographs. When one approaches Middleton and William for an autograph, they will be forced to politely say "No." Yes, the Duke and Duchess of Cambridge are not the only one who are forbidden to sign autographs, the rule also applies to Prince Harry, Prince Charles and even Queen Elizabeth II herself, Express reports.
"The long-standing rule remains in place for all royals because of the risk of the signature being forged," the publication noted. When Charles was asked to sign a photograph, he reportedly said, "Sorry, they don't allow me to do that." However, in 2010, Charles broke the protocol when he signed an autograph for a victim of a devastating flood. In the paper, he just wrote, "Charles 2010," but he was never seen doing it again.
Aside from turning down autographs, the royals also have a strict protocol in their food choices, especially when they are out of town. Middleton and William are discouraged from consuming raw meat, tap water, shellfish and garlic. This is to assure that their stomach is safe.
As for garlic, the previous cooks from the Kensington Palace confirmed that this herb is a big no-no in the royal's menu. "The only thing that was forbidden was garlic," chef Carolyn Robb said. "And the reason for that was that they obviously did a lot of public engagements and were in close proximity to people and never wanted to have garlic."
Darren McGrady, 50, who served as one of the cooks for the royal family for 15 years said the same thing about garlic. He admitted that he was surprised when he learned that the family advertised that they were looking for a cook.
"I'm amazed they're advertising at all," McGrady told The Telegraph. "They normally promote from within, because you have to learn the family recipes. Although you're cooking for 300 staff and kings and presidents, you're also cooking for a family; for two pensioners, with particular likes and dislikes. You'd never put garlic in the queen's menu, for example, or strong onions or paprika, because she hates them."
How do you find the royal family's protocol on autographs and food? Drop a comment below.
© Copyright IBTimes 2023. All rights reserved.
FOLLOW MORE IBT NEWS ON THE BELOW CHANNELS