Kate Middleton, Prince William's Third Baby Will Have This Title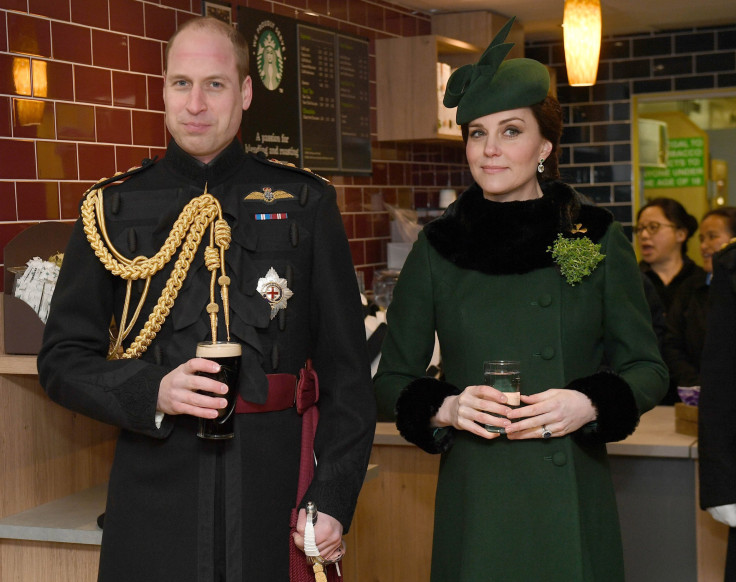 Kate Middleton and Prince William's third baby will have a long title but not as much role in the coming years.
The Duke and Duchess of Cambridge are due to welcome the new addition to their family in a few weeks. According to royal historian Marlene Koenig, Prince George and Princess Charlotte's sibling will have a long title.
"Royal children are 'styled' differently if they are the children of a royal duke. Because Prince William and Kate Middleton are the Duke and Duchess of Cambridge, the title will be His/Her Royal Highness Prince/Princess [name] of Cambridge," Koenig said. "It sounds complicated, but in the UK, the only people who are not commoners are the Sovereign and peers of the realm, [people with titles like] Duke, Marquess, Earl, Viscount, and Baron."
Although the baby will have a long title, he or she may not take many roles in the future being the fifth-in-line to the throne. "I don't think the baby will have much of a role for some years, apart from looking cute in family photos!" Koenig joked.
At the time, Prince William and Middleton are already preparing for their upcoming baby's arrival. The Duchess is reportedly due on April 23 and will deliver the baby in a luxury maternity suite in the Lindo Wing of St. Mary's Hospital where she gave birth to Prince George and Princess Charlotte.
According to an insider the couple has planned everything in details. Middleton's room which costs $9,650 a day has been under lockdown since March and the guards are doing regular sweeps in the area to ensure her safety.
"Security does regular sweeps of the room, then it's resealed each time with tamper-proof tape. It's a high-security operation. Even the crawl space above the room is checked regularly," one insider said. "Everything is planned down to the tiniest detail."
In addition, the Duke and Duchess of Cambridge have a "baby team" that includes Middleton's mom, Carole Middleton. The group is assigned to make sure that everything is ready from media, security to hospital arrangements on the day Prince William's wife deliver their third bundle of joy.
St. Mary's Hospital is also prepping for the worldwide attention. In fact, they just repainted the Lindo Wing railings. However, some think that this is not necessary at all. "Don't think w&k care about the railings ..#whybother," Sheri Burgess wrote.
© Copyright IBTimes 2023. All rights reserved.