Kate Middleton Steps Out During Third Pregnancy To Honor Britain's Fallen Soldiers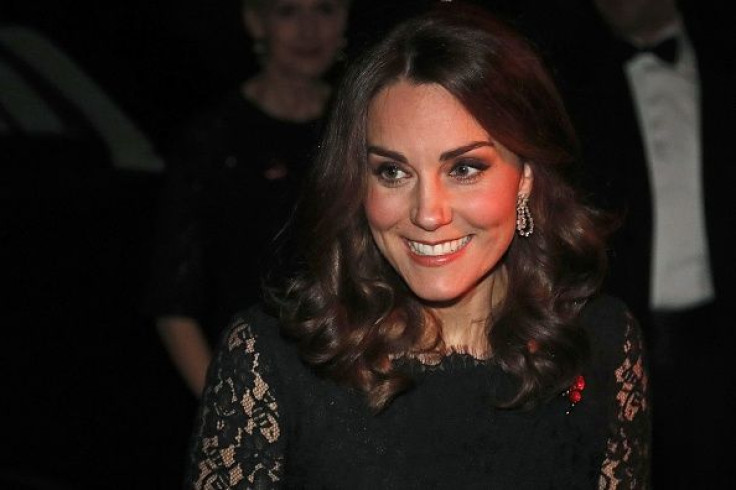 Kate Middleton recently stepped out with her growing baby bump to help Queen Elizabeth honor Britain's fallen soldiers at the Festival of Remembrance.
The event, which took place on Saturday, was held at London's Royal Albert Hall. According to People, Middleton attended the festival without her husband, Prince William, who was on an official duty at a rugby match in Cardiff, Wales.
Middleton wore a stunning black buttoned down dress that was accentuated with a poppy emblem, the traditional symbol of tribute to those who have suffered in the wars and various military conflicts.
The Duchess of Cambridge's, who is pregnant with their child, has been very selective when it comes to the events she will attend. After all, during the early months of her pregnancy, she was asked by her doctors to "slow down." Earlier this month, People reported that Middleton is doing much better and is now able to take her son, Prince George, to school.
A couple of months ago, it was only Prince William who accompanied the 4-year-old to school since Middleton couldn't make it due to her frail condition.
Meanwhile, the 35-year-old was also present at the annual School Leaders Forum run by the charity Place2Be in London. Middleton spoke during the opening for the event and talked about what it's like to raise a child, let alone two and eventually three children.
"As a mother, just getting used to leaving my own child at the school gates, it is clear to me that it takes a whole community to help raise a child. Whether we are school lawyers, teachers, support staff or parents we are all in this together," she said.
Middleton also shared her plans to provide easy access to information and practical tools to support children, teachers and even parents to openly talk about their mental health issues. "We are all here today because we share the belief that every child deserves the chance to fulfill their potential. When I came to this conference two years ago, I left with a real sense of energy and passion about what we could all achieve together," she added.
© Copyright IBTimes 2023. All rights reserved.