Katherine Webb Engaged: Did Model Chrissy Teigen Accidentally Reveal 'Splash' Star's Engagement Ring? [PHOTO]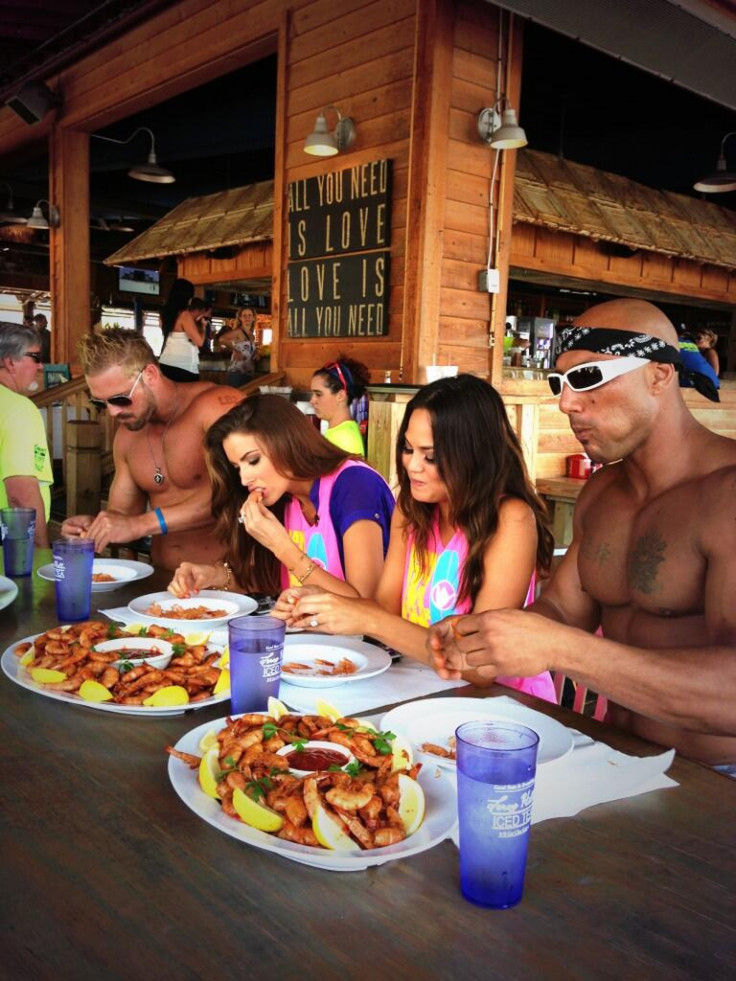 A candid photo of former "Splash" star Katherine Webb and her boyfriend, college football star A.J. McCarron, has sparked rumors that the duo will soon be walking down the aisle.
Sports Illustrated model Chrissy Teigen posted a photo in which Webb, a model who was Miss Alabama USA 2012, is sporting a unique piece of jewelry that wasn't visible during Webb's final "Splash" appearance this weekend: an engagement ring.
The photo was reportedly taken at Hangout Fest in Gulf Shores, Ala., recently, according to the Christian Post. It pictures Webb with Teigen and McCarron, a quarterback for University of Alabama Crimson Tide, apparently enjoying a feast. Upon closer inspection, something sparkling can clearly be seen on Webb's left hand. Webb has yet to confirm or deny rumors that she is engaged, only releasing a cryptic message to fans on Twitter Monday that alludes to the photo by mentioning that she's eating with "family" -- thus sparking more rumors that the duo are planning to get married.
Webb graced headlines last week following reports that she only consumes 1,120 daily, and that her diet of low-calorie shakes is what led to her slim 5'11" figure, according to People. The model denied the reports on Twitter, saying her love of chocolate would make such weight-loss claims impossible.
The love affair between Webb, 24, and McCarron, 22, first gained national attention after ESPN commentators Brent Musburger and Kirk Herbstreit pointed the model out on live TV during a BCS National Championship Game in 2013, calling her "good-looking."
In April, Webb quit ABC's reality show "Splash" -- a series that combines a wide array of celebrities who train to become successful divers -- after sustaining injuries from training for the program, the New York Daily News reported. The model's decision to forfeit allowed comedian Louie Anderson to return to the show.
© Copyright IBTimes 2023. All rights reserved.