Katie Holmes To Reunite With James Van Der Beek? 'Don't Trust The B---- In Apartment 23' Want A 'Dawson's Creek Reunion'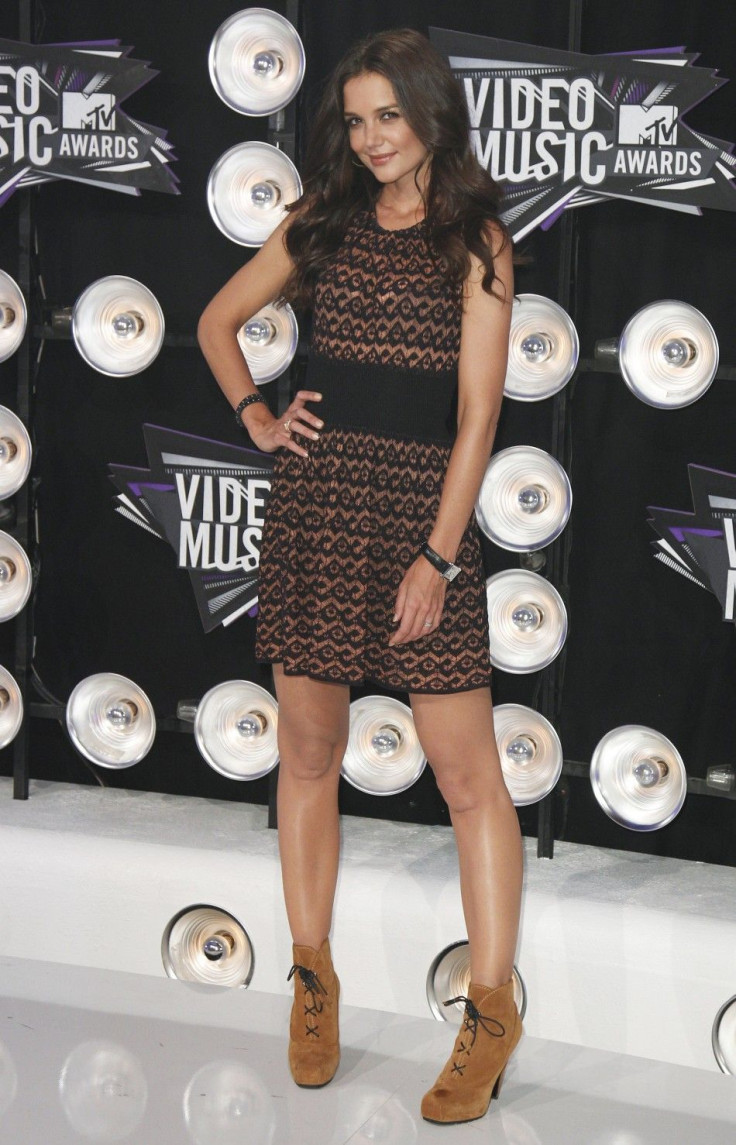 Since Katie Holmes has broke free from hubby Tom Cruise and Scientology, the former "Dawson's Creek" star is high on demand. We can get behind one project in particular that wants to get their hands on the single actress - ABC's "Don't Trust The B---- In Apartment 23."
The hilarious sitcom, which finished up their first season, stars Krysten Ritter, James Van Der Beek, Dreama Walker and Liza Lapira. According to the creator and stars of the show, they would love a visit from another 'Creek' member.
"In my mind, I think it would be really funny if there is some sort of bad blood between her and James that's not really been addressed," creator Nahnatchka Khan told TV Guide about her vision of seeing Holmes as a "heightened version of herself."
"Maybe she comes because something bad happens to James and she comes to celebrate," continued Khan. "For example , if she thinks it's his funeral and she shows up in a red dress with champagne, like, 'Ding dong, the Beek is dead!'"
Van Der Beek agreed with Khan, telling TV Guide that he wants Holmes to guest star as a "demented, bizarre version" of herself.
Krysten Ritter on the other hand has a different plan for the former Mrs. Cruise. "I want Katie Holmes to be my lesbian love interest," she explained.
Van Der Beek talked to the Huffington Post about his old co-stars making an appearance on his new series before "Don't Trust The B---- In Apartment 23" premiered. But Van Der Beek knew better than to jinx the ABC show. "Ill make sure we'll get to make more of these [episodes] and then I'll make some phone calls," he said of contacting other "Dawson's Creek" members Michelle Williams and Joshua Jackson.
While Holmes hasn't actually signed up to guest star on an episode of "Apartment 23," the actress will be addressed in the series premiere on Oct. 23.
"We have a big season premiere episode that's dealing with James potentially trying to do a 'Dawson's' reunion and his version of what that would look like," explained Khan. "It would be a shame not to address it."
Besides talk of a "Creek" reunion, "Apartment 23" is pumping p their second season with some amusing storylines. The Hollywood Reporter released some major spoilers. Check out the list of some of them below.
-Chloe may be a registered sex offender.
-Luther, faux James Van Der Beek's assistant becomes a full-time cast member.
-Chloe's parents come to visit.
-Faux James Van Der Beek throws a Halloween party.
-Faux Van Der Beek's clothing line "Beek Jeans" will be back.
-June will deal with some obstacles in her new financial job.
Are you excited about season two of "Don't Trust The B---- In Apartment 23?" Would you like to see Katie Holmes guest star?
© Copyright IBTimes 2023. All rights reserved.