Katy Perry And Taylor Swift: Goodbye To Feud And Hello To Cookies
KatyCats and Swifties can collectively breathe a sigh of relief thanks to a new indication that the years-long pop feud has been extinguished. Thanks to a newly-Instagrammed photo, fans have been led to believe that Katy Perry and Taylor Swift have put their "Bad Blood" behind them.
On Tuesday, the "Never Really Over" singer posted a picture of a plate of chocolate chip cookies. Also on the plate were the words "Peace at last" written in red icing, along with peace signs on both sides of the phrase.
"feels good @taylorswift," read Perry's caption. Swift, in return, commented 13 pink heart emojis.
The photo had a peculiar geotag on it as well, which read "Let's Be Friends." This prompted fans to speculate whether or not that could be the title of an upcoming collaboration or the name of an unreleased song.
This is a positive turn of events considering the seemingly complicated relationship the two pop stars have had for years. It is widely believed that their hit songs "Bad Blood" and "Swish Swish" were inspired by the other. However, there have been calmer waves in the typically-rocky water along the way. Ahead of Swift's Reputation Stadium Tour in May, Perry sent an actual olive branch, along with a note, to signify a desire to end the feud.
The "Roar" singer has reached out in other ways as well, including liking Swift's first-ever political Instagram post in 2018. Following that, the Grammy-winning singer outwardly illustrated her support for Perry when she added her new song "Never Really Over" to an Apple playlist that she curated herself.
Fans have never received a concrete answer on what exactly ignited the feud, but Perry did tell her side of the story when she appeared on Carpool Karaoke with James Corden in 2017. According to her, the issue revolved around backup dancers.
With both women supposedly releasing more new music this year it definitely seems like a possibility that a collaboration could be headed our way, but we'll have to wait and see if this peace truly lasts.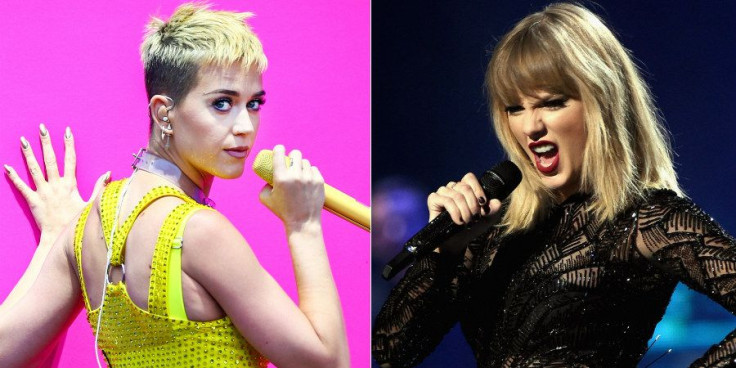 © Copyright IBTimes 2023. All rights reserved.