Kazakh Organization Wants Award Shows To Ban 'Borat 2' From Competing
KEY POINTS
Sacha Baron Cohen has been accused of exploiting Kazakhstan by "hijacking" their ethnic identity
The Kazakh American Association wants award shows, including the Oscars, to exclude "Borat 2"
The "Borat" sequel is considered to be one of the top contenders in the upcoming awards season
The Kazakh American Association has urged the Academy Awards, Golden Globes, British Academy of Film and Television Arts Awards and Directors Guild of America Awards to ban Sacha Baron Cohen's "Borat Subsequent Moviefilm" from competing in the upcoming awards season.
The association wrote a letter to the award shows alleging that Cohen "exploited" Kazakhstan. The organization also accused "Borat 2" of promoting "whitewashing, ethnic stereotyping, racism, cultural appropriation, and xenophobia," Variety first reported.
"The Kazakh community worldwide is underrepresented and inherently vulnerable. Our nation is still recovering from an oppressive colonial past, which is why we do not have substantial media representation," the letter read.
"Sacha Baron Cohen understands this fact and exploits Kazakhstan by hijacking our ethnic identity, whitewashing us by portraying us as Eastern Europeans, and inciting harassment toward Kazakh people worldwide," it continued.
The letter, co-signed by the Hollywood Film Academy (HFA) and Council on American-Islamic Relations (CAIR), also explained that the people of Kazakhstan have reported a large number of "sexual and physical harassment as well as bullying" incidents due to the "Borat" film series.
Hiba Rahim, CAIR's Tampa Bay regional coordinator, and Gia Noortas, HFA CEO, alleged that Kazakh women have been exposed to sexual harassment since the release of "Borat" in 2006. Their statement also accused Cohen of taking advantage of Kazakhstan's relatively small population and lack of political or economic power.
The call for a ban comes a few weeks after the same group condemned the "Borat" sequel for showing racist depictions of Kazakhs. In an Oct. 20 letter sent to Amazon, the association asked the company to cancel the Amazon Prime Video release of "Borat 2" because of its content.
"Mr. Cohen [sic] states that his primary target is Trump and racist Americans. If this was the case, he would have created a fake country, as he did in the film 'The Dictator.' However, Mr. Cohen [sic] chose to openly bully, humiliate, and dehumanize an actual nation," the letter read.
The "Trial of the Chicago 7" star has already made it clear that the movie and its characters have "nothing to do with the real country."
"I chose Kazakhstan because it was a place that almost nobody in the U.S. knew anything about, which allowed us to create a wild, comedic, fake world. The real Kazakhstan is a beautiful country with modern, proud society — the opposite of Borat's version," Cohen told The New York Times.
"Borat 2," which also stars Bulgarian actress Maria Bakalova in a pivotal role, is considered to be one of the top awards contenders for Amazon Studios. The first movie was nominated in the best original screenplay category at the Oscars in 2007.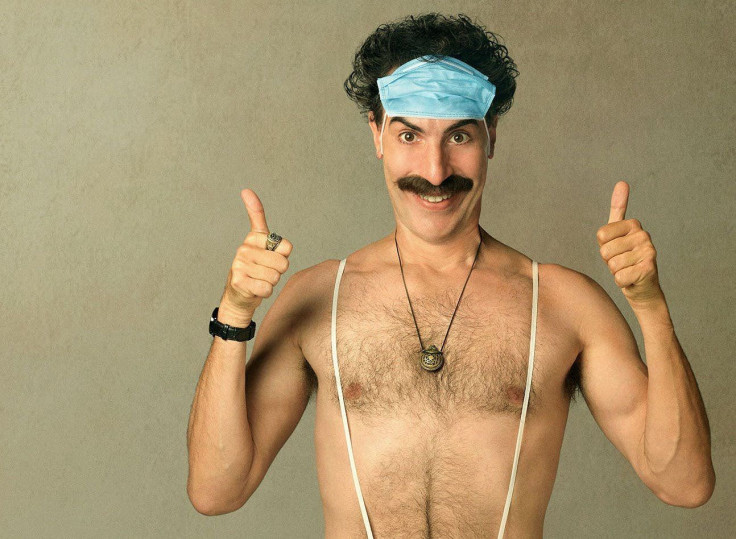 © Copyright IBTimes 2022. All rights reserved.
FOLLOW MORE IBT NEWS ON THE BELOW CHANNELS