KFC 11 Herbs And Spices: What Colonel Sanders' Nephew Revealed About Secret Recipe
KEY POINTS
Colonel Sanders' nephew previously revealed KFC's secret recipe of 11 herbs and spices
Joe Ledington said the most important ingredient in the mix is white pepper
KFC's "A Recipe For Seduction" mini-movie starring Mario Lopez is set to be released Sunday
KFC's secret recipe of 11 herbs and spices had been closely guarded by Colonel Sanders and his family for decades, but his nephew once spilled the beans on what makes his "original" fried chicken so delicious.
Numerous protective measures are usually taken by the fast food giant, including using two different suppliers to prepare the 11 herbs and spices, so that no single entity can crack the code. This mystery contributed to the fried chicken's fame.
Back in 2016, however, Harland "Colonel" Sanders' nephew, Joe Ledington, revealed to Chicago Tribune the secret recipe that had been passed down in a family scrapbook.
Inside the scrapbook he showed the outlet is a handwritten note that said, "11 Spices — Mix With 2 Cups White Fl," along with a list of 11 herbs and spices and their measurements.
According to the recipe, one would need to combine 2 cups of white flour with celery salt, dried mustard, white pepper, garlic salt, paprika, ground ginger, basil, salt, thyme, oregano and black pepper to make the "original" KFC chicken.
The mix requires 4 tablespoons of paprika and 1 tablespoon each of celery salt, dried mustard, white pepper, garlic salt, ground ginger and black pepper. Only 1/2 tablespoon is needed for both basil and thyme, while 1/3 tablespoon each of salt and oregano is required.
Ledington, however, made it clear that the writing isn't his uncle's. He said he isn't sure who exactly wrote down the recipe but guaranteed that the list is authentic because he remembers helping to blend the same herbs and spices on the flat concrete roof of his uncle's garage as a boy.
"I mixed them over the top of the garage for years," he recalled, noting that the job came with the fringe benefit of getting to use the swimming pool at Sanders' motel-restaurant complex — a nice perk during the hot summer months.
"The big thing we did was mix it with flour and bag it up and sell it to restaurants," Ledington added. "Actually, my job was cutting up chickens and bagging up the chicken mix. That's what I did as a 10-, 11-, 12-year-old kid."
Based on the recipe, the main ingredients for the coating are paprika, white pepper and garlic salt, but he said white pepper is the real star among the three.
"The main ingredient is white pepper," he explained. "I call that the secret ingredient. Nobody (in the 1950s) knew what white pepper was. Nobody knew how to use it."
Aside from serving delicious fried chicken, KFC has also ventured into making movies. The fast food giant recently teamed up with Lifetime for the holiday mini-movie, "A Recipe for Seduction," which stars Mario Lopez as Colonel Sanders, according to a press release.
The 15-minute romance flick, which tells the story of a saucy chef with the hots for his evil, albeit well-to-do boss' daughter, premieres on Lifetime Sunday at 12 p.m. EST/PT.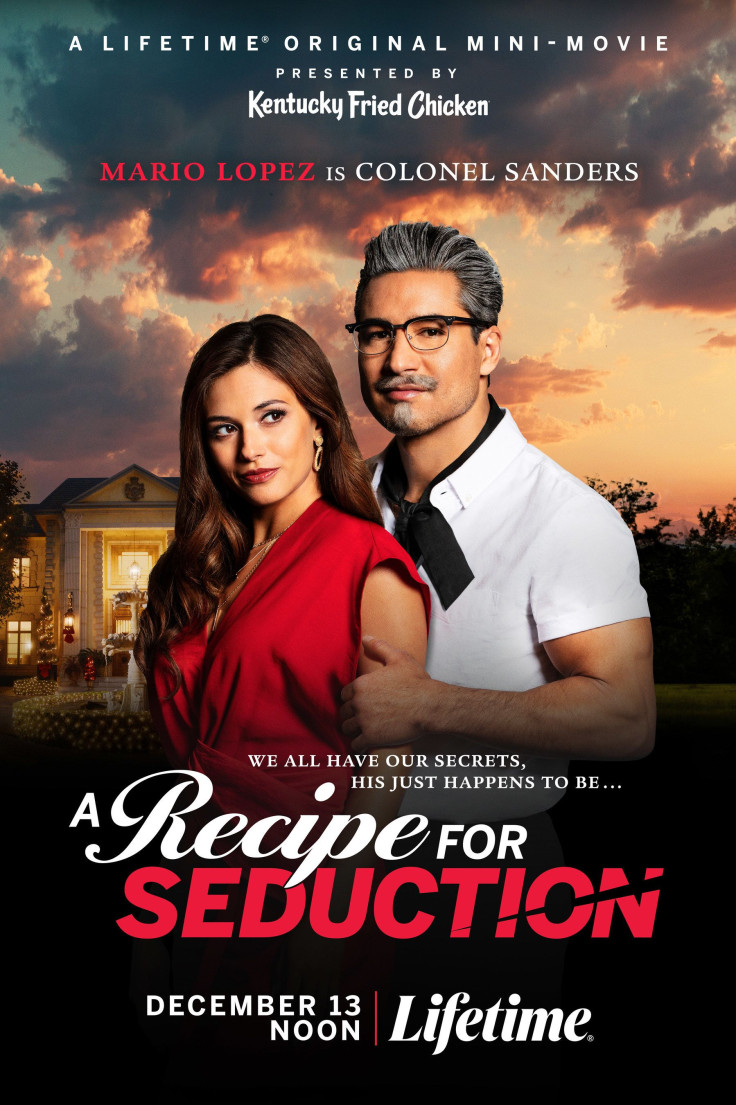 Several Twitter users have already expressed their excitement over KFC's short film:
© Copyright IBTimes 2023. All rights reserved.