Kim Dotcom To Launch 'Mega,' A Secure Follow-Up To Megaupload, On Saturday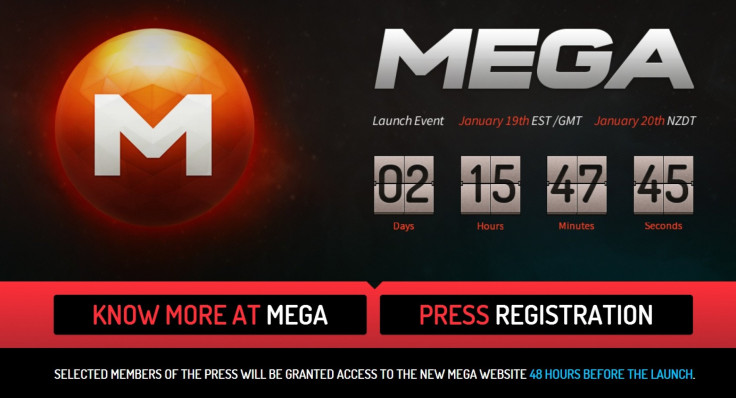 Kim Dotcom has announced that he will launch "Mega," a secure, encrypted file-sharing successor to his wildly popular Megaupload.com, which was shut down last year by U.S. authorities who charged him and several other Megaupload leaders with criminal copyright infringement.
Dotcom's personal website, Kim.com, has a clock ticking down to Saturday, the launch date for Mega, which is promised to be a secure successor to Megaupload.
Kim.com already has some information about the new service posted, including how the encryption will provide added security to users:
"In the past, securely storing and transferring confidential information required the installation of dedicated software," the description reads. "The new Mega encrypts and decrypts your data transparently in your browser, on the fly. You hold the keys to what you store in the cloud, not us."
The information on Dotcom's site also breaks down one of the ways Mega will make file-sharing easier than it was with Megaupload:
"Before, you had to install the Mega Manager on every computer you used Megaupload from," the site explains. "Now, high-speed parallel batch uploading and downloading with resume capability are integral parts of the Mega website."
The catchphrase for the launch is "We Promise We Deliver - Bigger.Better.Faster.Stronger.Safer," and it appears that Dotcom is flying in the face of his critics and authorities in the United States and New Zealand, where he is fighting a long battle against extradition to the U.S.
That extradition case remains tied up in a New Zealand court, which in December pushed back hearings on the matter until August 2013 despite the urging of American authorities that it be expedited so Dotcom can face money laundering, racketeering and copyright infringement charges as soon as possible, according to the Sydney Morning Herald.
Rather than lay low until the extradition case is resolved, Dotcom will hold a news conference at his $25 million New Zealand home on Saturday, Eastern Standard Time (Sunday in New Zealand's time zone.)
"It is a little bit provocative," Charles Alexander, a partner specializing in intellectual property law at Minter Ellison in Sydney, Australia, told Bloomberg Businessweek after the announcement. "The U.S. may redouble their efforts to extradite him."
Dotcom had told a New Zealand court that he would not bring back the Megaupload site, according to Bloomberg Businessweek, but it appears the 38-year-old -- who legally changed his name from Kim Schmitz to Kim Dotcom -- is moving forward with Mega nonetheless.
He may be emboldened by a series of setbacks in the case against him and the Megaupload empire. First came the postponement of his extradition case. Then last week an Ontario court denied a request by the U.S. government for Megaupload to turn over mirrored copies of 32 Canada-based computer servers to American authorities, stating that the request was too broad and its scope needed to be pared down if the court is to grant a warrant to obtain the mirror images.
Bloomberg Buinessweek wrote Wednesday that a screenshot of the new Mega site it obtained shows that it appears that it will use an "encryption generator, known as a 2048-bit RSA public/private key, that creates a unique alpha-numeric code used to unlock a file or a message. According to DigiCert Inc., the Lindon, Utah-based provider of Internet Security Certificates, cracking a 2048-bit RSA SSL code using a standard desktop computer would take 500,000 times longer than the age of the universe, which is about 13 billion years old."
Megaupload.com was once one of the most popular websites on Earth, as Bloomberg Businessweek reports that at its height it accounted for 4 percent of world Internet traffic.
© Copyright IBTimes 2022. All rights reserved.
FOLLOW MORE IBT NEWS ON THE BELOW CHANNELS